Jessie Taylor Seafood to Reopen May 1, Joining Captain White Seafood City at Municipal Fish Market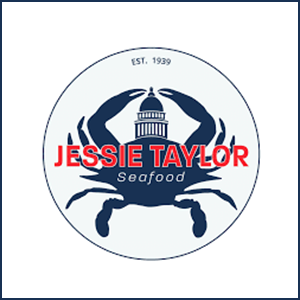 Jessie Taylor Seafood announced plans to reopen at the Municipal Fish Market on Friday, May 1st. The business temporarily closed after large crowds amassed at the fish market on April 4th causing city officials to order a shut down of the market until a better social distancing plan could be implemented. 
In a message posted to its Facebook account, the seafood purveyor said, "WE WILL BE OPEN FOR BUSINESS ON MAY 1ST. We would like to thank everyone for understanding why we felt it was important to close for a while. We will be opening with plenty of MARYLAND CRABS and you know our guys are always ready and willing to help with all your seafood needs. PLEASE KNOW WE WILL CONTINUE TO FOLLOW SOCIAL DISTANCING ORDERS AND YOU MUST WEAR A MASK TO ENTER THE BUSINESS AREA."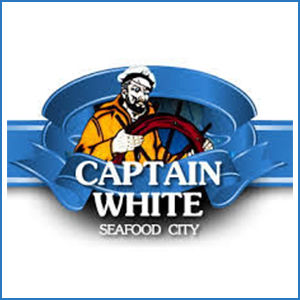 The reopening of Jessie Taylor Seafood means the historic fish market will again be fully operational next weekend. Captain White Seafood City, which closed for just a few days after the April 4th issue, reopened on April 10th and has been operational with social distancing measures ever since. A message posted on Captain White's Facebook page asks customers to wear a mask, leave pets at home, and to limit the number of people from each household to one or two.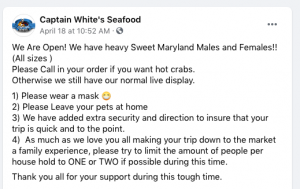 Since the fish market reopened, it has been patrolled by Metropolitan Police, National Guard, and private security officers to ensure social distancing among customers. Metal fencing has been added to help everyone keep apart in the queue. Masks are mandatory for all visitors. Employees are wearing masks and gloves as part of the reopening plan. 
Jessie Taylor struggled with the idea of getting back to business and sacrificing revenue.  On April 11 the business posted a message to its Facebook account, saying, "We at JESSIE TAYLOR SEAFOOD have decided not to open this weekend even though we have been given the okay by the DCRA to open our business. Last week we had a plan in place but it failed, putting our customers, workers and family at great risk. We value our customers and we hope you understand why we want to take a couple more days to make the necessary changes needed for everyone's protection."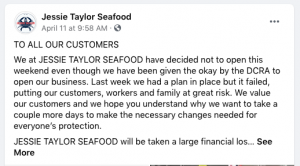 On April 14, it provided another Facebook update saying, "JESSIE TAYLOR SEAFOOD WILL BE TAKING IT DAY BY DAY. After looking at the latest data regarding the spread in the DMV area we have decided to remain closed.We will not help contribute to the spread of this illness that is claiming way too many lives. We instead would like to be part of the solution, by encouraging people to stay safe by staying home. We are hoping everyone will respect our families [sic] decisions."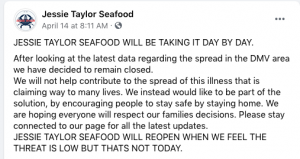 Everyone is looking forward to the Wharf getting back to business.  This is a nice first step. We hope everyone remains vigilant and practices social distancing best practices.