Bella Moda at Wharf DC – A Modern Salon with Heart and Soul
You're walking around the Wharf with bad hair?!  Walk on over to Bella Moda and speak with Esthefani, the manager of Bella Moda, or check online for an appointment. They know how to get you into shape for the Wharf. All of their stylists have years of experience and training behind them.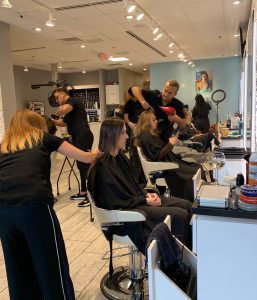 Dogan Set, the owner, has a team of specialists ready to help you with that beauty emergency. You will feel better with a quick trim and blow dry, lash extensions, or an eyebrow threading for your evening at the Wharf.
But what do you do for your regular hair salon appointments?  Do you drive out of town for a cheap seat? Do you Uber downtown to a place you've heard might be good?  Do you rely on your girlfriend's suggestion? No judgement here. We've all been there. Why not try a place that you can trust, that mentors their trained and experienced stylists to become truly outstanding, and is within walking distance of your boat, condo, apartment or hotel?
What you might not realize walking by are all of the services they offer here and how much this team cares. They offer all the basics plus all those new styles and treatments you've heard about: expert hair styling, cuts and color, skin therapy, hair removal, lash extension, threading, waxing, and of course manicures and pedicures. Dogan's team will walk you through it.
What makes them truly outstanding is the heart and soul they put into their work. How caring and giving Bella Moda salon has been in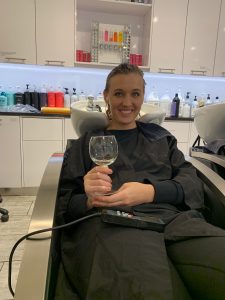 its first years at The Wharf DC. I've heard lots of examples. I first came into the salon pushing my father in his wheelchair to get a special haircut and mani-pedi for his birthday.  The stylists spent hours with him, chatting and cutting his few hairs. He felt great, and beamed with that special joy that only comes with a good haircut. Every time we went by that summer they remembered him and would come out to say hello, just to light up the day for my father. Bella Moda has a special place in my heart.
Of course, I still am getting my hair colored and cut at Bella Moda along with many of my neighbors. Their business is growing strong and steady in their second year and they have added even more stylists this summer. You can trust any of their stylists, but my new favorite is Wesley. He just joined the team and takes color to a new level! Wesley takes the time to really listen to your ideas and questions, but it is his attention to detail that really shines.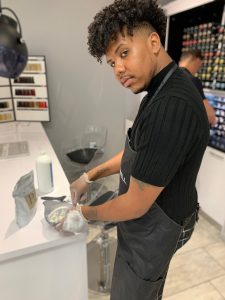 Insider tip: They offer wine, coffee, tea, or water to all their customers. Drink the wine! They give great discounts to first time visitors – sometimes it's a percentage off, but it can also be a massage or nail treatments.  They also give 15% off to military, 10% to seniors and Wharf Founders card-toting locals. Watch Bella Moda's sandwich board for the best deals each week.
You can find Bella Moda on the Maine Avenue side of the Wharf DC, under the Incanto, in between Pearl Street and Sutton Square, or in between Toastique and CVS.
Bella Moda
Hours
Mon – Sat: 9:00 A.M. – 7:00 P.M..
Sunday : 10:00 A.M. – 6:00 P.M
Contact
780 MAINE AVENUE SW, WASHINGTON, DC 20024
WWW.BELLAMODASALONSPA.COM
202.290.1950