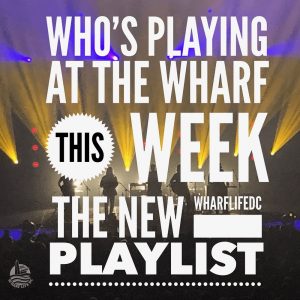 The District Wharf is home to some of the city's best live music venues and now Wharf Life DC is bringing a curated list of tunes by the artists scheduled to play at The Anthem, Union Stage, and Pearl Street Warehouse to your device.  
Getting ready to see Fitz & the Tantrums at The Anthem? You'll hear them on our playlist. Curious about Maggie Miles who is playing at Pearl Street Warehouse for Galentine's Day, or William Clark Green at Union Stage on Thursday? Learn more about their music on the playlist.
The weekly playlist will get you tuned-in and excited for the music coming up each week. On Wednesdays we will refresh the playlist so that you will hear songs from the acts performing at the Wharf for that week.  We will also keep a running archive so that you can go back in time and listen to all the acts that have played the Wharf this year from any previously published playlist. 
Wharf Life DC is also the only site where the live music schedules for The Anthem, Union Stage, and Pearl Street Warehouse can be found in one location.  The schedule of live music can be found on our home page and under the "Music" tab.
The playlist, which lives on the Spotify platform, will be a tune-in staple for music fans everywhere and will also help the local venues to promote shows and sell tickets.  Many artists playing the Wharf need no introduction, but for the ones who are unknown, the playlist will be a great benefit to them, and for us to get to know these new artists.
So check out, "The Weekly Playlist by Wharf Life DC" and click that heart button so that it comes up in your Spotify playlist every week.
The Weekly Playlist by Wharf Life DC – Photo Gallery