If you have ever had the pleasure of dining in a small Italian trattoria, you might have ducked in from a side alley paved with cobblestones. That is the feeling you get when you enter Lupo Marino. It's located on Pearl Street Alley, which of course is paved with cobblestones.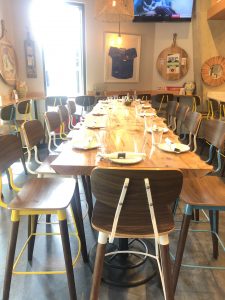 Once inside, you are greeted by a host who will give you the option of sitting at the bar, individual tables, or a communal table, a hallmark of authentic Italian eateries.  
The lunch at Lupo Marino caters to the growing office crowd and visitors to The Wharf.  
I was promptly seated in the main dining area from which I could see into the kitchen and the wonderful chaos of it all.  I also had a very pleasant view of Pearl Street and the people passing through the alley.  
It was a hot day and in true Wharf Life DC fashion, ordered a refreshing cocktail called Milano.  This was an absolutely good decision as the drink was made with Aperol, Grapefruit juice and Italian beer.  Thirst was quenched and I was ready to eat. 
The lunch menu is set up in the classic Italian format with antipasti, fritti, insalatti, panini, pasta, and pizze.  Deciding on what to get was not an easy decision. The pizza is always tempting but so was the pasta. I chose from the panini section and ultimately settled on Italiano panini.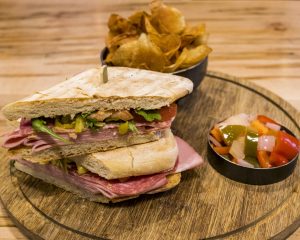 The sandwich is large, I mean this is a big sandwich, it's sliced in half and one stacked on top of the other and served on a wooden cutting board with pickled vegetables and homemade potato chips.  
The Italiano has salame toscano, mortadella, arugula, tomato, pepperoncini, and red wine vinaigrette. The meat, cheese, veggies, and vinaigrette are all in balance. It's what an Italian panini should be. But here's the thing, it wouldn't be worth a damn if the bread wasn't exactly right.  The Italian bread is just right. It's served warm, obviously fresh from the oven, and is light so as not to get in the way of the meat and cheese.  
To end the meal…(you didn't think I was finished, did you?) I had an Americano and a tiramisu. The was a great was to finish the meal. The tiramisu is light, sweet and bitter while the Americano is made with rich dark espresso.  
Lupo Marino has a Friday lunch special for $20, you get any entree and a red, white or draft beer.  That's a good way to kick off your weekend at The DC Wharf.