Brunch at La Vie DC Wharf is a Place to Feel Special
Brunch at La Vie at Wharf DC feels like you are going to a special event in a different country.  A group of us recently made our way from the marina to La Vie for an early fall brunch and were rewarded with beautiful sights and a wonderful brunch.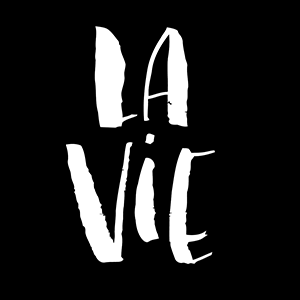 Located on the 5th floor of it's District Square location, La Vie has spectacular views of the  Washington Channel and of course Capital Yacht Club and Gangplank Wharf Marina. La Vie's high ceilings and sharp while and black interior colors set an elegant mood. 
The brunch is a mediterranean buffet featuring several food tables and live stations. I started with the cold table and snagged some fresh smoked salmon and crudite and added an assortment of hummus and tzatziki and pitas.  
When I got back to my seat, I was greeted by a server passing hors d'oeuvres with crab, avocado, and merguez.  Yes! It's brunch I'll take one of each!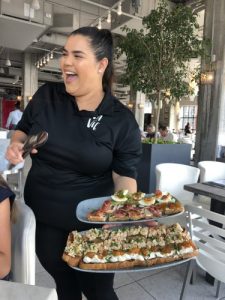 The hot table features an array of savory items including chicken and waffles, moussaka, meatballs, scrambled eggs, and a mini gyro station. Back to my seat with a plateful of several of the savory selections, which did not disappoint.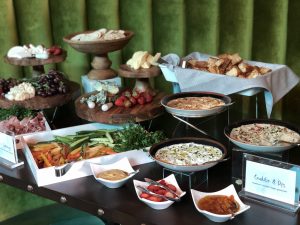 There are three live stations. One is a carving station with hunks of meat and au jus, another station has eggs cooked to order with all the fixings, and the third station features fresh sweet crepes.  I went for the sliced beef from the carving station, which was tender and succulent. I paired the beef with an omelette with cheese, spinach and mushrooms.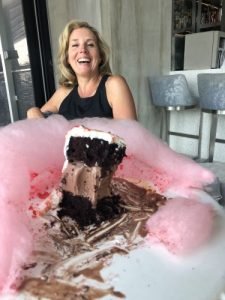 As we polished off our third plates of food we were definitely filling up but we knew an amazing dessert was waiting for us at the finish line. The La Vie brunch includes several small plate desserts of cream puffs, tarts, and fruits but we could not resist going off menu and ordering the cotton candy baked Alaska. This is truly a sight to see.  Large cotton candy bush is delivered to your table then lit on fire! As the candy melts the ice cream baked alaska is exposed and ready to eat. It's a great experience and something that should be kept in mind for any celebration. 
La Vie is bright, fun, and filling. It is a great brunch option for large parties or couples that want to enjoy a Sunday for an enjoyable meal while watching the boats pass by.  
La Vie Photo Gallery