Hank's Oyster Bar Announces Half Priced Oysters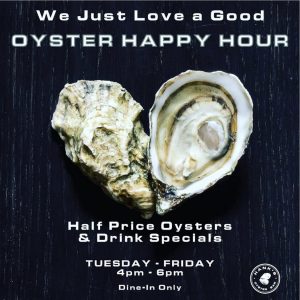 Happy hour isn't completely a thing of the past, it's happening at Hank's Oyster Bar at the District Wharf and featuring half priced oysters. Oysters are regularly $36 per dozen, but assuming our math is correct, at Hank's happy hour you can get a dozen for $18, which comes out to $1.50 per oyster.
The happy hour special is available for dine-in customers Tuesday – Friday from 4pm – 6pm at each Hank's location including at the Wharf. No word as of yet as to how long the half price oyster special will last, so you'd better get them while you can!
Hank's also has its full menu up and running and is offering dine in, delivery, and pickup options. Beyond oysters the raw bar has chilled jumbo shrimp, peel-and-eat shrimp, ceviche, and chilled half and whole lobster.
Hank's sandwich menu includes its lobster roll, oyster po-boy, shrimp po-boy, and double patty burger. The small plates menu still has Hank's classics such as Eastern Shore crab dip, lobster deviled eggs, and popcorn shrimp calamari. The large plates menu includes an 180z bone-in ribeye, braised short ribs, chargrilled Branzino, and seafood fettuccine.
Come on down to Hank's to get your fill of half price oysters and stay around for dinner.