Gangplank Boat Home Tour, Tiny Living Alive and Well
Tiny living is a thing now in popular culture. There's even a slew of tv programming dedicated to living small, including Tiny House, Big Living on HGTV, Tiny House Nation on A&E, and Tiny House Hunting on FYI network.  Living on a boat is mostly small living – at least for most of us that live on boats at the DC Wharf and now you have the opportunity to come visit our little community during the upcoming Boat Home Tour!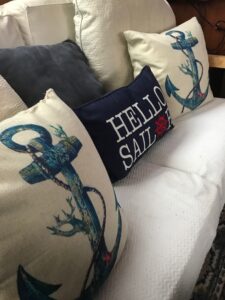 The tour is a biennial event, and the first since the opening of the District Wharf in October, 2017. This year's tour will be held Saturday, October 5 from 10 am to 3 pm.  The self-guided tour provides visitors the opportunity to visit 23 of the liveaboard boats at Gangplank Marina. 
The Home Tour is sold out this year, but here is your opportunity to win a pair of tickets to this unique event.  The winner will be announced on Wednesday, October 2. 
Proceeds from the tour ticket sales will benefit local charities in Southwest DC, including Amidon-Bowen Elementary School PTA, Potomac Riverkeeper, DC Sail's youth programs, Friends of the Southwest Library, and St Augustine's neighborhood programs. More info can be found at Gangplank Boat Home Tour. 
As discussed in a previous post, the boats of Gangplank Marina come in all shapes and sizes, and some are not even boats, they are barges, which are kind of like floating condos.  
Most of us live in spaces of 300 square feet up to about 900 square feet.  We have all the basics; bedrooms, bathrooms, dining rooms, kitchens, living rooms, and of course outdoor spaces.  What we don't have are lawns or the need to maintain them. 
If you are planning on making the tour but don't know the lingo, here's a quick primer about boats and a glossary of terms.
Staterooms (bedrooms) 
Sleeping on a liveaboard boat is typically serene.  My stateroom has a queen sized bed with memory foam making it very comfortable.  The mattress is custom made because the bed must fit inside a boat, there is a unique shape of the bed in every boat. Add a slight rocking from the motion of the water and it's off to lala land.  
Portholes or hatches (windows) 
Airflow and natural light are highly desired on boats. The right portholes and hatches bring a boat to life and comfort when most needed.  
The salon (living room)
This living area is a place to entertain guests and typically watch tv. The salon area gets more use during the cold months since we are typically above board enjoying the outside when the weather is warm. 
The galley (kitchen) 
The galley gets lots of action from morning coffee to creating fancy dinners. You will notice most galleys includes refrigerators, stove, oven etc, albeit in some cases a bit smaller than a land home.  But that doesn't stop us from making great meals.  
The heads (bathrooms) 
Heads typically come with toilet, sink, vanity, and shower. Some boats have bathtubs! Boat plumbing is different though. Our waste goes into a holding tank, which is pumped out once a week by the marina.  PRO TIP: Always ask permission to use the head and never put anything down there but pee, poop, and toilet paper!
The stern (back porch) 
The stern on many boats has seating areas and wet bars. These areas are fun for hang outs in slip and while cruising.  
The bow (front porch) 
For many vessels this is an option for entertaining. On other vessels the bow is used for storage for important items such as a dinghy.  
This primer will get you through your next visit to a boat! 
Gangplank Boat Tour Photo Gallery