Lunch and a Pint at Kirwan's On The Wharf DC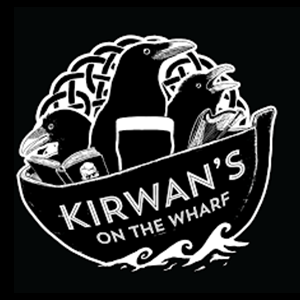 No neighborhood is complete without a traditional Irish pub, where you can have a perfect pint and dig into comfort food that will satisfy any hunger. Kirwan's on the Wharf fills exactly that role for Wharf residents, local workers, and visitors. 
The interior of Kirwan's certainly has the feel of a traditional Irish pub without any kitsch. What might be one of the best views at the DC Wharf is looking out from Kirwan's at the boats in the marina. It makes one think they have been transported suddenly to Galway. 
For those of us living at the Wharf, Kirwan's serves so many purposes. It is a place to meet with friends to watch a game, get a meal, and to catch live music. There seems to always be something happening at Kirwan's. In addition to the daily lunch and dinner service, Kirwan's features a weekend brunch including a full Irish breakfast. There is typically live music on weekends, and on Sunday be sure to catch the traditional Irish music jam session from 3pm to 6pm. 
Recently, a few of us in the marina had lunch at Kirwan's to catch up.  The menu is fairly large and covers all the main food categories and just about any size appetite. We started with pints of Guinness while we considered the menu options.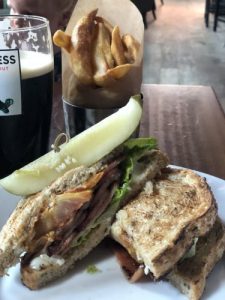 The Big BLT got everyone's attention when it arrived at the table. This is not your typical BLT, this is a Kirwan's BLT, which means it is loaded with Irish bacon, making for a meaty, delicious sandwich. Served on toasted pumpernickel, mayo, lettuce and tomato, it is different from most BLTs and very satisfying. You have the option for pub fries or chips. The pub fries are thick and have a crisp outer layer. The chips seem to be hand cut, are large and crispy. 
The Kirwan version of the chicken pot pie is a step above the classic dish. It too is an eye catcher as the golden brown pastry is formed into a dome. As you break into the pastry, you will find plenty of roasted chicken breast surrounded by a creamy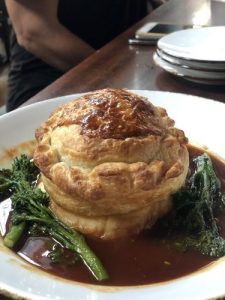 bechamel sauce with carrots, celery, peas, and chopped herbs.  This is an all-in-one meal that goes especially well with a pint. 
The steak sandwich at Kirwan's consists of chargrilled skirt steak, made to order. I ordered mine medium rare and that's what I got. The sandwich is served on a roasted ciabatta with sauteed onions and mushrooms, French's mustard and Ballymaloe relish, which is a tomato chutney.  This steak sandwich with its unusual combination of the tangy French's mustard and sweet Ballymaloe relish definitely works and makes for a great meal.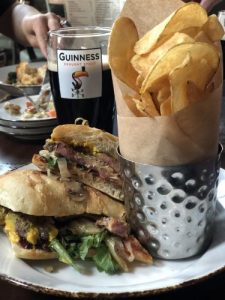 Kirwan's not only provides a place for a pint and a chat with friendly staff, the broad menu with traditional Irish grub has something for everyone. 
Kirwan's on the Wharf Photo Gallery
DINING
Monday to Friday
Lunch: 11am – 3pm
Dinner: 4pm – 10pm
Late Night: 10pm – 12am
Saturday & Sunday
Brunch: 11am – 3pm
Dinner: 4pm – 10pm
Late Night: 10pm – 12am
OPENING HOURS
Mon to Thu: 11am – 2am
Friday: 11am – 3am
Saturday: 11am – 3am
Sunday: 11am – 2am
CONTACT
202-554-3818
749 Wharf Street SW
Washington, DC 20024