A Couples Day at the Wharf DC for $75
"Bet you can't," is the response I received when I told my neighbor I am planning a full day at The Wharf with my husband for under $75. This is a common assumption about the new merchants and restaurants along the waterfront. "Touristy" and "expensive" are some of the generalizations that I hear, but as a resident, I am able to raise my family here within a reasonable budget. I found plenty of options to spend less than $50 for myself, too, can you? Use our guide!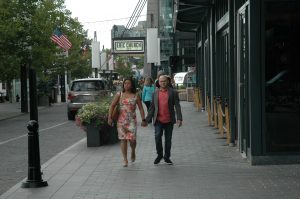 Eat up! For breakfast, visit one of the various cafes for coffee and breakfast goodies for under $10.
At Dolcezza, we recommend the sausage biscuit for $8. It is amazing how butter and biscuits make a lovely breakfast.
Take a walk over to Maine Ave. where two dollars for drip coffee with the Three Cheese Italian toast at Toastique ($14 total) will set you up to meet the day.
District Doughnut has gourmet doughnuts for around $3 each like the delicious milk chocolate glazed.  District Doughnut also has local brew, Compass Coffee, which is amazing.
For lunch and dinner, keep each meal around $20 with these options:
Falafel, Inc. is one of the most budget-friendly and tastiest food options on the Wharf. Falafel sandwiches start at $3 each, add $1 for hummus and $3 for fries. Falafel salads are $4 and there's a DIY sauce bar.
Union Pie pizza starts at $12 and is the best thin crust pizza in the city. One pie is enough for two hungry people.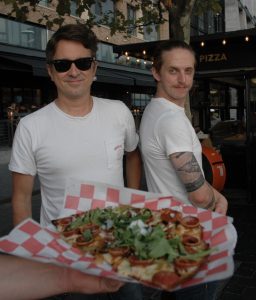 Shake Shack offers the Shack Burger at just under $6, and the Chick'n'Bites are under $5. You can grab one of these in between meals to keep you going…
Brighton offers a rotating lunch special priced at $10 a person. The options change daily, ask your server for details but the fish & chips, as well as the brisket burger are great picks!
Grazie Grazie offers subs and salads perfect for lunch or dinner. Salads start at $9 and sandwiches are between $11 and $12. Add risotto balls or Mozzarella cubes for $6 and you won't be hungry for the next meal.
Kaliwa offers a Masaya Lunch Box for $16 and is available from 11:30 a.m. until 4:00 p.m Monday through Friday. A compartmental lunch packed for adults, all items rotate based on the chef of the day. An example box includes lumpia (Filipino egg rolls), mandu (Korean dumplings), pickled cucumbers with chili, garlic fried rice, and a green papaya salad. Another great Kaliwa option is at the Kaliwa Kiosk located on the promenade. You really can't beat the bulgogi for $6!
Late afternoon, order a pick-me-up coffee from Blue Bottle Coffee for $2.50 espresso.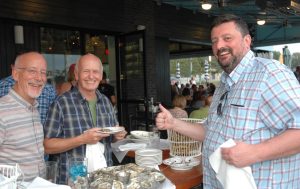 Hanks Oyster Bar offers both lunch specials around $14 and dinner specials southernly named 'Meat & Two's' after 5pm. Depending on the day, Meat & Two's cost between $19 and $34. Sounds expensive, but the plates are very full and can easily be shared, leaving some cash for the seafood ceviche ($13). Wednesday's chicken schnitzel ($19) and Monday's molasses braised short ribs ($28) are favorites.
Build your own pizza at Lupo Marino starts at $13 all day. Include your choice of bruschetta for $8 (cured salmon and goat cheese, fresh ricotta and hazelnuts, or peperonata, mixed peppers, onions) and you have enough food to share.
Pearl Street Warehouse is the trifecta for the evening: dinner, drinks and live music in one location at a decent amount. Order the drugstore burger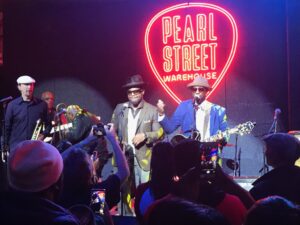 (lettuce, tomato, onion, special sauce $9) and a happy hour beer ($5-8) while enjoying a free live music concert either in the building or in the alley.
Dessert
Be a kid at heart and save room for dessert. Order the mint chocolate chip cookie sandwich for $3 (!) from Southwest Soda Pop Shop or a double scoop waffle cone at Ben & Jerry's ($6.25). Want baked goods? Hit up infamous Milk Bar for birthday cake truffles (three for $6).
Drinks
Of course, a cheaper day may be light on alcoholic beverages, until you consider the many happy hour deals listed in our "Definitive List of Happy Hours at the Wharf" to keep the day festive at a reasonable price.
Activities and Events
As for activities, there are plenty to do including free concerts, free events and more fun listed here at and the upcoming Wharf Weekend Music Schedule.
Day at the Wharf for Two – Receipts
$10.50 Breakfast and coffee at District Doughnut: Half dozen doughnut bites: $6; Compass drip coffees $2.25 each
$25 Lunch at Grazie Grazie: One $13 Philly Special Cheesesteak and one $10 Loria Salad with added grilled chicken for $2
$5 Afternoon espresso at Blue Bottle: $2.50 each
$34 Dinner, Drinks and Music at Pearl Street Warehouse: two $8 beers and two $9 Drugstore Burgers
TOTAL: $74.50
Day at the Wharf for One – Receipts
$16 Breakfast and Coffee at Toastique: $14 Avocado Smash toast and $2 drip coffee
$4 Lunch at Falafel $4 Falafel sandwich and $1 for added hummus
$29 Dinner and Drinks at Hank's: $10 Hanks Hops beer and $19 Oyster Po' Boy
TOTAL: $49.00
Receipts do not include tax.
Day at The Wharf Photo Gallery