Hank's at Wharf DC is a Favorite Neighborhood Restaurant and Bar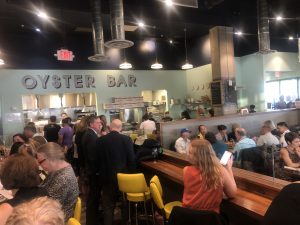 Hank's Oyster Bar at the Wharf DC is the kind of place where you can meet friends for drinks or find a seat for a great meal. It's rare when an establishment is so well built to accommodate both desires, but Hank's pulls it off in high fashion. Hank's has established itself as one of the true neighborhood hangouts at the Wharf. It is literally the corner bar, holding down the eastern end of the Phase 1 Wharf development, which opened in Oct. 2017.
The long bar area at Hank's, which extends on to the patio when the garage doors are rolled up, is a natural pub area.  Here's where we can grab the full variety of beverages from Hank's Hops Pale Ale (by DC's own Atlas Brew Works) to fancy seasonal cocktails, some of which are served in fish bowls.
The dining area includes inside and outside seating options. The outside seating is comfortable year round and provides for dining on the waterside promenade where the people watching is highly rated and the views of the water are beautiful.  The patio area has top to bottom clear awnings which are deployed when the weather turns foul. When it's cold, Hank's has space heaters hanging overhead to ensure it's always comfy.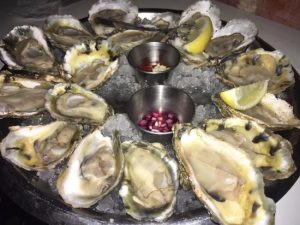 At its heart, Hank's is an oyster bar. It's not just in the name, it's in their DNA.  Getting started at Hank's with a dozen fresh shucked oysters is the right first move to get your meal going.  Hank's offers a revolving selection of fresh oysters mostly from the Chesapeake Bay region. Hank's fried oysters come out hot and are fried so perfectly that they are both crunchy and oystery (new word) with each bite.  They come with an aioli dipping sauce as well, providing for a different flavor altogether by its addition. Another oyster starter is the Hog Island Style BBQ Oysters. These oysters are roasted "Rockefeller style" and bathed in a tangy bbq sauce and covered in breadcrumbs. While we are on the topic of Hank's oyster dishes, it should be noted that Hank's Hangtown Fry, which is essentially a fried oyster egg scramble, is served during Saturday and Sunday brunch and is superb. 
If by chance oysters are not your thing, then look to the seafood ceviche with lime and jalapeno, the lobster bisque, or the hush puppies, which might just be best hush puppies you will find in the DMV.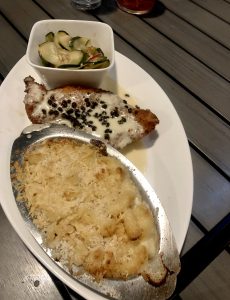 Hank's at the Wharf offers a non-seafood daily special tabbed as Meat & Two's, a meat dish and two sides. We were there on a Wednesday so one of our party ordered the special chicken schnitzel with "mac & cheesy" and spicy cucumber salad on the side. The fried breaded cutlet is served with a lemon butter sauce over the top. The schnitzel is definitely one of the highlights of the daily specials. 
Hank's is certainly versatile and can create pasta dishes with the best of them.  The shrimp and pasta dish (of which there is a fried oyster version) is comfort food at its best.  
Hank's sides game is also quite strong. The aforementioned, mac & cheesy, is really as good as you are going to find in this city. When available, the braised local collard greens will take you back to your southern roots, if you have them, with every bite. Likewise the cole slaw is fresh and crunchy,exactly what slaw should be, instead of an afterthought like so many restaurants treat the dish.  Finally, the chilled marinated beets bring joy to beet lovers anywhere. The beets pair really well with any of the fish dishes on the menu. They are perfectly cubed, mildly marinated and exceedingly fresh. 
Hank's at the Wharf does not offer any deserts at this time, but with your check you get a small bowl of chunks of dark chocolate which is quite satisfying. After your meal, you might wander back to the bar area for a nightcap to catch the conclusion to the ball game on one of the many tvs. Either way, you are walking out of Hank's well satisfied. 
Hanks Photo Gallery