Make Offices Make A Space for You at DC Wharf
The DC Wharf is where we live and play, but it's also a place to work, and the Make Offices located on the 2nd floor of 800 Maine Avenue have every working convenience.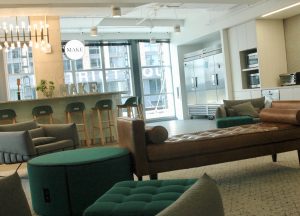 Entering the Make Offices at the Wharf is a little like entering the modern work space of a Silicon Valley office. It is bright, has large open spaces, with great views of the Washington Channel.  The common areas include a full kitchen and bar area, comfy work areas and some arcade games.  
Make Offices, which opened its Wharf location in February, 2018, has 90 offices that can hold between one and 18 people. There are a variety of office spaces to choose from including common work spaces for individuals, small offices, and large offices which are suitable for 10 to 18 people. 
There are 13 conference rooms, six small areas called "team rooms" that can accommodate 4 to 6 people, 10 call rooms where calls can be made in privacy, a podcast room, and an AV room in which audio and video can be created and edited.  There are also two wellness rooms designed for nursing and napping, and two relaxation rooms with massage chairs. 
Those who lease space at Make are called members. The community seating members can choose from any of the open desks and have unlimited access to the amenities.  All members have access to several business amenities including printing, WiFi, private VLAN, SSID, desk phones and IT services. 
There is even a virtual office option that provides sole business owners a professional office address and mail pick up. This option includes limited conference room time but not daily work space. 
The conference rooms can accommodate between 4 and 24 people. They come with audio/visual hook ups, white board, speaker phones and support.  
The podcast room is so cool. It is fully equipped with high quality mics, soundboard, recording software and tech support. A member company and professional podcast company, Goat Rodeo, even provides additional support and consultation.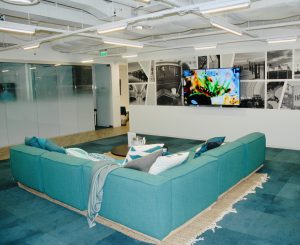 The common areas are fresh and inviting.  They include a steady flow of drip coffee and cold brew. There's a bar that includes unlimited craft beer on tap.  Make hosts happy hours, member monthly networking events, and a pizza party three times a month. Members can even reserve the common space for special events for up to 150 people. 
If you are interested in checking out office options, book a tour with Make's friendly staff who will show you around and set you up with the member plan to meet your needs.  Book a Tour  Another option is to check out the workspace yourself. Make office offers a day pass for $35 that allows you access to the common work areas and the amenities. 
Make Offices is a great option for local small businesses because it can help keep overhead low and potentially grow your business network.  Annual and month-to-month agreements are available. 
Make Office Photo Gallery