Getting S'More from your visit to The Wharf DC
The DC Wharf's fire pit area, otherwise known as Camp Wharf, has all the feels of fall and s'mores are on the menu!  Camp Wharf provides everything you need to make the perfect S'more whether you like it burnt to a crisp or golden brown.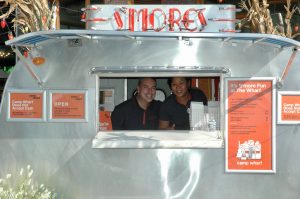 Camp Wharf is situated at the end of District Square and features a generously sized fire pit, surrounded by comfy Adirondack chairs. They have a friendly staff serving up supplies from an adorable, and very instagramable, retro caravan. Supplies include roasting skewers, a menu of S'mores ingredients, and apple cider. They are open Thurs – Friday 6-10 Sat. 3-10 Sun.3-9 
It is hard to imagine a better way to spend time on a fall afternoon or evening. Roasting S'Mores around a blazing fire is perfect for team building, coaxing smiles out of angsty teens, inducing wonder in toddlers, and date nights.   
If that wasn't enough – a portion of the proceeds goes to The Friends of Southwest, a nonprofit organization that makes grants to small local community organizations. So if you thought S'Mores were just yummy treats know that these treats not only taste good- they DO good.
Camp Wharf DC Photo Gallery