Endeavor Athletic Set To Close at DC Wharf; Sale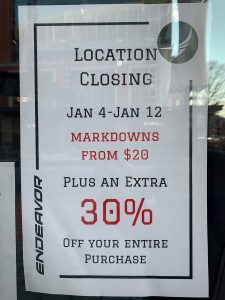 Endeavor Athletic, the luxury apparel store located at The Wharf's District Square, has run out of options and announced it is closing the location. Signs announcing the store's closing were posted on store windows this week. The boutique was founded by a collective of "elite" athletes who saw a need for specialized clothing for personal workouts. 
Endeavor is having a going out of business sale this week until its final day, Sunday, January 12 with "markdowns from $20 plus an extra 30% off entire purchases." 
The Wharf location was the only one in the DC area. No word yet on what will replace the soon to be vacant space at District Square.