District Wharf Merchants Prepare to Reopen as DC Enters Phase 1
As warm, spring weather arrived in DC this week, activity around the Wharf substantially picked up as merchants up and down Wharf street have been preparing outdoor seating areas in anticipation of Mayor Muriel Bowser's lifting of the stay at home order.
The Mayor announced on Wednesday that as of 12:01 a.m. Friday, D.C. will transition into Phase 1 of its reopening plan, meaning that restaurants will be allowed to resume outdoor dining, but customers must be seated at least six feet apart and wear face masks. Gatherings of ten or more people remain prohibited. The order also allows for barbers and hair salons to open but by appointment only. Nonessential retailers can open and offer their goods curbside.
Wharf Life DC has confirmed that several restaurants and bars will likely experiment with "soft openings" this week to work through new policies and procedures in hopes of opening up to the public next week.
Wharf officials tell Wharf Life DC that all of the piers will reopen on Friday and that they are working with the Metropolitan Police Department to allow visitors to sit on the benches. No work yet if visitors will be allowed to use the swings on Recreation Pier. Phase 1 allows for parks to open but not playgrounds.
The Wharf Boathouse will be open this weekend and available for kayak and SUP rentals.
Perhaps sensing the Phase 1 order was coming, Wharf merchants started preparing earlier in the week. Workers at Hank's Oyster Bar, Kith Kin, Pearl Street Warehouse, and Kaliwa were busy dusting off the furniture and setting up outdoor seating areas. At Kaliwa, Chef/owner Cathal Armstrong was himself hard at work weeding flower boxes on his patio area.
Meanwhile, Dolcezza, which had been closed for several weeks, announced that it was reopening on a daily basis from 8 a.m. to 8 p.m. Advanced ordering is encouraged and masks are required.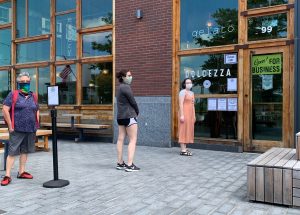 Twisted Pretzel, a new Wharf business located near the Municipal Fish Market, had a "soft opening" last weekend serving up "grab and go" soft pretzels. We are looking forward to the store's grand opening.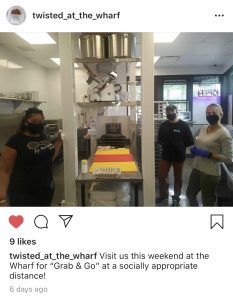 It is a relief and very encouraging to see that DC is moving into Phase 1. The safe and healthy reopening of the Wharf will be a good sign for the entire city as businesses and their employees get back on their feet, and customers begin to venture out.
Phase 1 is a limited reopening though. Mayor Bowers said, "I call it stay-at-home light. It means the stay-at-home order has been lifted, and some activities have been added back to what we can do, but they are minimal."