The Boats of Gangplank Marina at The Wharf
A common reference about someone living on a boat, usually made by someone who does not live on a boat, is that they live on a "houseboat." However, of the liveaboard boats currently at Gangplank, just a fraction are actual "houseboats."  There are also yacht-style boats, sailboats, barges, and even a WWII tugboat.
Liveaboard boats have most of the essentials as any land based home. There are bedrooms called staterooms, kitchens called galleys, bathrooms called heads, and living rooms called salons.  Some of the vessels at Gangplank have motors and enjoy cruising the locals waters, while others stay in slip at all times.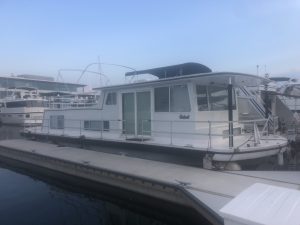 A true houseboat is a specific vessel designed for long-term living. They are typically rectangle-shaped and allow for relatively open spaces. One houseboat feature that is consistent is the rooftop area which includes ideal open spaces for entertaining. There are some stunning houseboats at Gangplank ranging from 30 feet to 80 feet in length.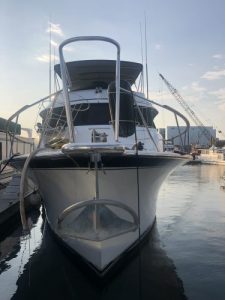 Yacht-style boats, are not always the bright, shiny boats used in rap videos, they are also more practical motor cruisers. These boats are very livable, and of course, are excellent for cruising the Potomac and Anacostia rivers and beyond. The layout of the yacht-style cruisers varies from boat to boat, especially when it comes to staterooms. Some have one, two, or three staterooms. On some boats the primary stateroom, (the Captain's Quarters) is located in the back, called the stern and some are in the front, called the bow.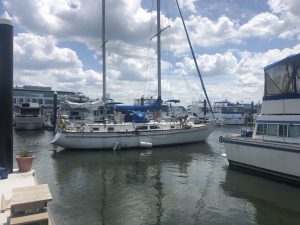 Currently, there is but one full time sailboat at Gangplank. She is a 40 foot Gulf Star. Sailboats have long been considered a great vessel for liveaboards, and it's no exception at Gangplank.  A typical sailboat will maximize space in every way imaginable to permit for the all the comforts of home.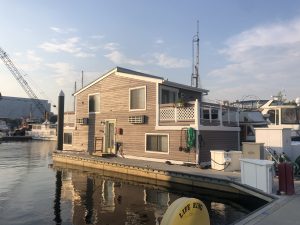 Finally, there are the barges at Gangplank, which look like floating houses. These beautiful structures provide maximum square footage for living on the water. Think of the community of floating homes in the movie, Sleepless in Seattle, those are barges. Gangplank's barges come in different shapes and styles, many with full sized kitchens and living spaces.  The one common element for barges is that they do not have motors and remain in slip at all times and provide more of a condo feel.  
Next time you are at the Wharf, head to the water's edge and notice all the different vessels.  They are not all houseboats.