Brunch at Officina – DC Wharf
Premier Italian might not be the first option you think of when looking for a DC Sunday brunch, but to overlook Officina at the DC Wharf would be a mistake. First, it has a bright, wide open, feel to it. Perhaps it's the liberal use of marble and the vast windows, but Officina definitely throws off a great brunch vibe.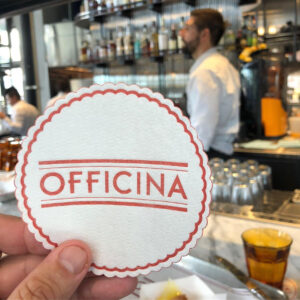 The cafe, which has a marble topped, horseshoe shaped bar that sits about 25 is ideal for those wishing to be up close to the action at the bar.  The chairs are wide and cushy which provides space between you and others to enjoy the company of your friends and family. The room also has a number of four top tables, some limited booth seating, as well as counter seating by the windows. 
Let's get started….with cocktails
Officina has a line of classic brunch cocktails that include mimosas and bloody marys, but with a twist. Officina's mimosa is made with fresh, really fresh, squeezed orange juice and prosecco.  Their bloodies, called Bloody Giardiniera, include housemade giardiniera and pickle brine, taking it to a higher level of flavor.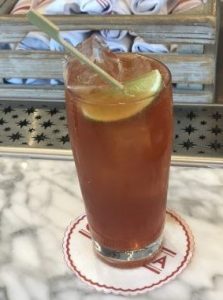 Another highlight on the Sunday cocktail list is the ultra refreshing Colomba, my favorite during the hot weather months. Columba includes tequila, lime, averna, and sparkling Grapefruit soda.  (Personally, I like to replace the tequila with mezcal for a little extra, smokier punch!)
The brunch menu includes a list of egg dishes, baked goods, salads and paninis.  Be sure to check out their Pizza Al Taglio, a square pan pizza commonly found in Rome that is airy and crisp, kind of like focaccia. It's not thin pizza but it's definitely not deep dish either. We had the White taglio, which was really an ode to fresh fungi.  So good! 
We mixed our Pizza Al Taglio with an egg dish called Uovo in Purgatory. There really is nothing like a perfectly cooked egg and this dish presents two of them. Here, two medium cooked eggs sit in a bath of spicy marinara sauce. The marinara was so rich with flavor, its aroma pleasantly wafted across the room for all to enjoy…and envy.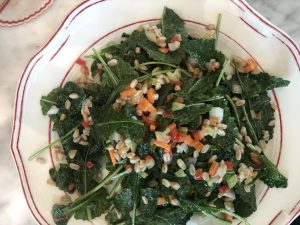 The farro salad is piled high and is a perfect shot of roughage and vegetables for the system. It includes farro, with baby kale, diced carrots, onion, celery, and bell pepper. While the baby kale is unusually delicate and easy to eat, the star of this salad is the habanero dressing that gives it a kick of spice that you feel on the side of your tongue and in your olfactory system. 
Finish with strong with sweets 
Officina excels in the dessert game as one would expect in a high end Italian restaurant.  They offer a variety of gelato, pastries and cannolis. We had the Bombollini. This dish comes with five bite sized Italian doughnuts and two delectable dipping sauces, one is pastry cream and the other is dark chocolate. This my friends is a successful Sunday brunch!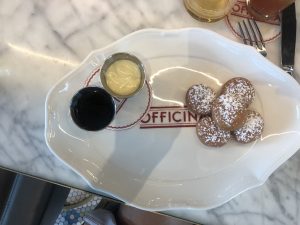 When making your brunch plans, Officina needs to be on your list.  In addition to the cafe downstairs, try the trattoria located upstairs. The trattoria promises even more space and options. 
Officina Photo Gallery