Tenalach Gets Hauled Out for Cleaning and Repairs
The Whittier family has been off the sailboat for a few weeks as it had to be hauled out for repairs and cleaning. Tenalach was hauled out of the water on June 12th at Campbell's Boatyard in Oxford, Md.  The Whittier's report that the people at Campbell's Boatyard are some of the best in the boat business and very friendly.  The boat should be back in the water in the near future so that Redbeard, Aubrey and Rue can continue their journey of the Chesapeake Bay.  In the meantime, we have it on good authority, that the family is safe and happily living on land.
The video below captures the haul out process and repairs that are underway.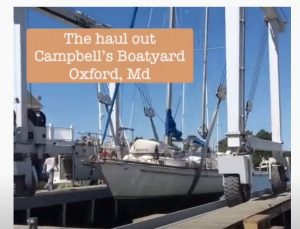 Tenalach Haul Out Photo Album