Pendry Anchors Phase 2 at Wharf DC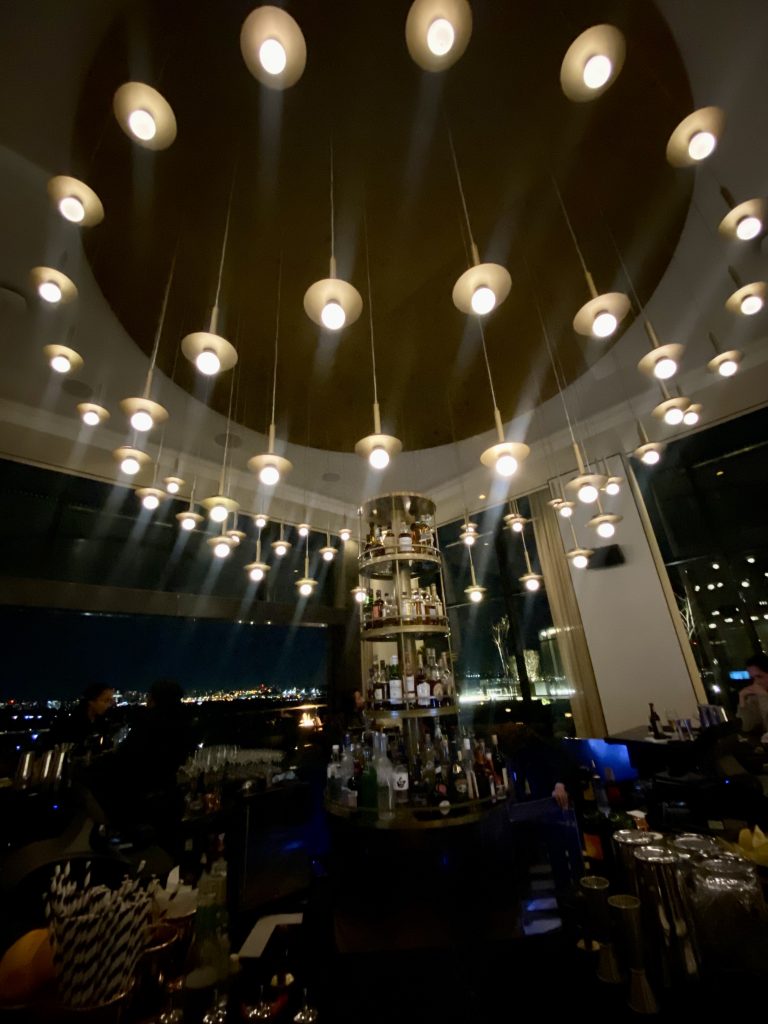 The Pendry at the Wharf is now open and greeting guests with 131 lavish rooms, two restaurants, a faux speakeasy, and pool scene. The property is considered by some Wharf executives to be the jewel in the Phase 2 crown. When the Wharf celebrated the Phase 2 opening/five year anniversary in October, Alan Fuerstman, the founder, chairman, & CEO of Montage International which owns the hotel, was on the podium along with Wharf developer Monty Hoffman and Congresswoman Elenor Holmes Norton.
The property is dazzling and offers remarkable views of the Washington Channel and Potomac river to the south and the Capitol to the north. Like many new properties the Pendry bars and restaurants suffer from issues in the kitchen and staff turnover as many employees appear to be getting trained on the job. Hopefully, time will solve these issues and service will eventually match the spectacular scene and setting.
Bar Pendry
The lobby bar is the kind of dark and mysterious place that lulls you into speaking in soft tones. There are several recessed seating areas for limited privacy, a fireplace seating area, and back room. The entrance from Wharf street is often locked, perhaps intended to be part of the mystery. However, there is a lobby entrance that is reliably open during operating hours.
Hours:
Thursday – Monday 3:00pm – 12:00am
Tuesday – Wednesday 3:00pm – 10:00pm
Moonraker
The rooftop restaurant/bar, Moonraker, features a circular bar, black and white decor, a seating area, and wrap-around balcony featuring personal fire pit seating areas. The dangling lighting fixtures gives the feel of a spaceship descending onto the bar, which is worthy of the Moonraker moniker. The menu is Japanese inspired and includes sushi and a series of fried rices with Wagyu, pork belly, salmon, and tuna. Access to Moonraker is guarded by a Pendry elevator attendant, so reservations are encouraged.
Hours:
Tuesday – Thursday 4:00pm – 12:00am
Friday and Saturday 4:00pm – 1:00am
Flora Flora
Overlooking Pendry's pool area, Flora Flora offers daily breakfast and lunch. The space is nice and accented with a Latin-American feel, which is reflected in the menu selections. The breakfast menu includes a variety of traditional items such as overnight oats, avocado toast, and Huevos Rancheros. If you go for lunch, treat yourself to the squash blossom vegan quesadilla, chicken tortilla soup, and a side of yucca fries.
Hours:
Breakfast
Monday – Friday 7:00am – 10:30am
Saturday and Sunday 7:00am – 11:00am
Lunch
Monday – Friday 11:30am – 2:30pm
Saturday and Sunday 12:00pm – 3:00pm