New Boat Rental Service at District Wharf
For those who want to live the Wharf Life DC in style at the helm of your own (rental) boat, you are in luck. A new boat rental service called Yachtsy emerged this week and is booking trips for $400 per two-hour cruise or $1,000 for six hours.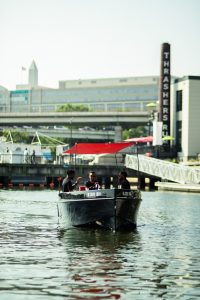 The boat, which measures 18 feet in length, is a center console, and can seat up to six passengers. Renters taking control of the boat must have taken and passed a boating safety course. For customers without boating experience, captains can be hired from Yachtsy's approved captain's list for an additional fee.  
The boat comes with a built-in Bluetooth audio system so you and your friends can fight over control of the tunes. Yachtsy's alcohol policy is BYOB but warns that if you are hammered or acting stupid, the cruise can be terminated with no refund.  Don't be that guy. 
Pets are permitted but if he or she is over 25 pounds, Yachtsy will count them as one of the passengers.  No word yet on whether that means they will be required to wear a life jacket if they are under 13 years of age. Speaking of life jackets, they are available for all passengers and all humans under 13 are required to wear one. 
Reservations can be made at Yachtsy reservations.