La Vie Partially Reopens for Pickup and Delivery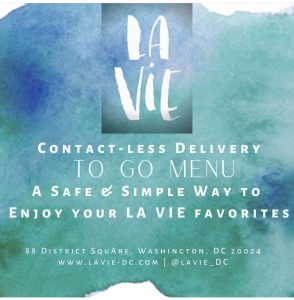 After being closed for more than six weeks, La Vie announced that it is now back in business providing pickup and delivery options for its signature Mediterranean fare. 
La Vie's partial reopening signals a trend among Wharf merchants that are emerging from the general quarantine as a result of the COVID-19 threat. Recently, other businesses including Hank's Oyster Bar, Jessie Taylor Seafood, and Captain White Seafood City have gotten back to business amid the crisis.  
La Vie is offering highlights from its menu for pickup and touchless delivery.  Included are starters, salads, main dishes, sides, desserts, cocktails, and wines by the bottle.  The items on the starter menu are reasonably priced at $4 per dish, which includes grape leaves, hummus, falafel, and tzatziki options.
The main menu includes highlights such as lamb chops with celery root puree, marbled potatoes, Parmigiano, caramelized red pearl onions, and pickled Fresno peppers for $22. The braised short ribs come with truffle polenta, english peas, and royal trumpets mushroom for $18. There is also Roasted chicken with pearl couscous, spring vegetables, and chicken Jus for $16, not shabby. 
Like other DC bars and restaurants, La Vie can now sell alcohol "off license" with a food purchase. You can pair your meal with tasty libations such as a St. Germain Spritz, a Rose Sangria, or a La Vie AF that includes D'usse cognac, bourbon, Herbs de Provence, balsamic reduction, and Strawberry – all the cocktail concoctions are $12 each.
The white wine offerings include a Chardonnay ($17), an Alvarinho ($15), and a Rose ($14). Included on the reds menu are a Tempranillo ($15), Pinot Noir ($35) and a Merlot for ($14). 
La Vie is also offering a Mother's Day three course a la carte menu for $35.  First course choices include smoked salmon, lamb meatballs, or avocado tartine. The second course selections include lemon ricotta pancake, tiramisu french toast, merguez muffin or short rib hash, LA Vie Burger Royale, or steak & eggs. Choices from the third course include, tiramisu, or Paris brest.  
Pickup and delivery is available Tuesday – Sunday from 4pm to 9pm.  To order online, go to: https://lavie.gettableside.com/order