Moon Rabbit Rises At Wharf DC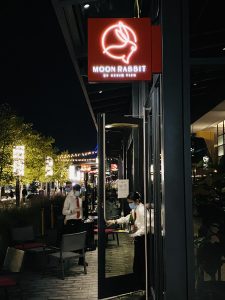 A new restaurant has opened at the InternationalContinental at the District Wharf called Moon Rabbit, which features high-end Vietnamese cuisine.The restaurant replaces the space formerly occupied by Kith/Kin which shut down following the departure of Chef Kwame Onwuachi.
Leading the culinary efforts at Moon Rabbit is rising star Kevin Tien, who was named as one of Food & Wine magazine's 10 "Best New Chefs." Chef Tien has roots in DC having worked at several well known restaurants such as Kaz, José Andrés' Oyamel, and Momofuku CCDC. Following his appearance on season two of Food Network's "Iron Chef Gauntlet," Tien made a splash in Petworth when he opened Himitsu in late 2016. He then went on to open Capital Hill's Emilie just last year. And now Moon Rabbit.
Chef Tien grew up in Lafayette, Louisiana where he earned his bachelor's degree in business administration in 2009 from the University of Louisiana at Lafayette and in 2011 received a master's degree in data analytics.
The menu at Moon Rabbit is inspired by Chef Tien's life experiences growing up in a military family in Louisiana. Moon Rabbit's menu is a departure from the popular Vietnamese restaurants that feature Pho and rice bowls. Recently Chef Tien announced on Instagram that, "A lot of people think of Vietnamese food as pho, rice plates, and noodle bowls. You won't see much, if any of that, on our menu."
Instead, Tien said in a press release that his menu is intended to be "a love-letter to his heritage as a first generation Asian- American, and to showcase dishes that tell his personal story, through an elevated and innovative lens."
Some dishes are already attracting a lot of attention including the sourdough pineapple milk bun with hoisin butter, which can be found at the top of the menu. Another highlight is the chim cut chien bo that features fried quail with fermented chili honey.
The restaurant's name is taken from the popular Asian folklore that markings on the moon resemble a rabbit. Specifically, Moon Rabbit is named for the virtuous rabbit in the Buddhist Jataka tale and retold throughout Asian culture.
Moon Rabbit is a fitting addition to the neighborhood and compliments other international cuisines that can be found at the DC Wharf. Welcoming Chef Tien was James Ryan, General Manager of InterContinental Washington D.C. at The Wharf, who said, "It's imperative that the hotel continues to deliver an unparalleled dining experience, one that we believe in, to D.C. diners, hotel guests and gourmands who travel to experience cuisine that inspires and excites. Kevin is that chef, Moon Rabbit is that concept and InterContinental Washington D.C. – The Wharf is the urban resort where that experience comes to life."
The restaurant will open initially for dine-in dinner service from 5 p.m. to 9:30 p.m.Tuesday – Sunday in its indoor-outdoor dining room, with ample outdoor dining space, weather permitting. For more information go to: https://www.moonrabbitdc.com