The Dogs of Gangplank Marina at The Wharf DC 
Gangplank Marina at the DC Wharf is one of the biggest liveaboard communities in the United States. Being a liveaboard community means exactly what it sounds like. We live on our boats. As mentioned in previous posts, Gangplank is home to many different shapes and sizes of boats.  It's also home to many dogs – also of different shapes and sizes.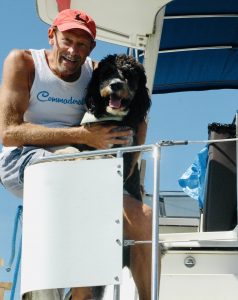 Boat dogs love being near the water as much as we do. The outdoors is always nearby and here at Gangplank a beautiful walk is just steps away. The dog community at Gangplank and the Wharf community in general is loud and proud. Morning and evening dog walks often turn into community gatherings.
One of the best walks for boat dogs is all the way to the Wharf, currently about a half of a mile walk. The merchants at the DC Wharf are overall very accomodating for dogs and their owners.  Most places provide water bowls and even doggie treats! The Wharf conveniently provides poop bags in kiosks around the neighborhood making clean up easy and efficient. 
You can find dog friendly establishments up and down the Wharf promenade. We especially thank the businesses that go out of their way to be dog friendly. They include: Hank's Oyster Bar, Velo Cafe, Bella Moda  Rappahannock Oyster Bar, Union Pie Kiosk, Tiki TNT, District Doughnut, Dolcezza, Pearl Street Warehouse, and SW Soda Pop Shop.
To prove our point, Gangplank dogs, Gunner and Harley, visited some of their favorite places around the Wharf as shown below. 
Velo Cafe!
District Doughnut
SW Soda Pop Show
Pearl Street Warehouse
Meanwhile, back on the docks, the dogs of Gangplank are part of our community and are welcome everywhere. Some non-dog owners keep treats for canine visitors.  Many pups are active and take rides on dinghies, attend happy hours, and the Sunday morning Captains' Coffee. We love our dogs of Gangplank and hope you do as well. Below are some of our candid canines hanging out with their humans and living the dogs life at the Wharf.  Don't worry feline friends, we are working on a cat feature for the near future!
Gangplank Dogs (and their humans) Gallery