NIFT E-Gift Card for Available for Wharf Merchants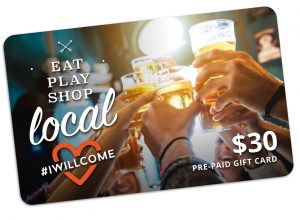 Wharf Life DC is actively looking for more ways to help Wharf businesses and we are proud to announce that we are making e-gift cards available to Wharf merchants from our partner Nift.
Nift has established a virtual store to sell e-gift cards on behalf of merchants. This is helpful to your business whether or not you already have a gift card because Nift is actively marketing its e-gift cards to over 300,000 customers in the DMV area (3.2 million customers overall). When merchants sign up, Nift will include your business in the on-line store and send you language and images to use in social posts and in emails to send to customers to promote the gift card. 
Merchants do NOT currently have to be in the Nift network and there is NO COST to be listed in the e-gift card store! Nift has made signing up very easy and 100% of the proceeds go to the participating merchants.
Customers will be able to access their e-gift card, which will be clearly marked "pre-paid" via the Nift app or email.  Additionally, they will be automatically reminded to check to make sure participating merchants are open before they attempt to use their gift card. 
When consumers buy a prepaid gift card, Nift will mail you a check or will directly deposit 100% of the proceeds generated monthly (full gift card value minus the credit card transaction fee). Nift will not charge a service fee.
Of course, Wharf Life DC will actively promote the store as well to send participating merchants new customers when you do reopen! 
We encourage Wharf merchants to reach out to Sarah Lakey (sarah.lakey@gonift.com) to sign up or if you have questions and want to learn more.
Nift E-Gift Card Gallery