ilili to Open this Summer at Wharf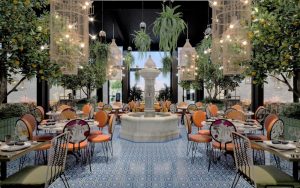 ilili, a swank Lebanese restaurant based in NYC, announced that it would open its Wharf location in the coming weeks in the central location near the Wharf fire pit. 
According to its website, ilili means "tell me" in colloquial Lebanese and is the restaurant's operating philosophy to create interesting shared plates and passing of freshly baked Levantine pita to open up new conversations.
illili offers mezza-style dining, and its DC menu includes classic Lebanese selections. Its hot and cold mezze (small dishes intended to be shared) feature a hummus with a choice of add-ons that include jalapeño, pine nuts, basterma, lamb, and shrimp. Other Mezze selections include moussaka, tabbouleh, falafel, Phoenician fries, and many others. Large plates include Salmon a la Plancha with butternut squash caponata, pomegranate, hazelnuts; Lamb Shank Lebanese with dirty rice, seasonal roasted vegetable, old-world jus, mixed nuts; and a Mixed Grill featuring a gluten-free mix of chicken shish taouk, beef kebab, kafta, lamb chops, garlic whip trio, seasonal grilled vegetables.  
The restaurant is run and operated by brothers Philippe & Alexander Massoud.  Phillippe, who serves as CEO and Executive Chef, says on the website that "every dish at ilili has its own story from the traditional recipes of Lebanon to modern updates that tell the history of our team, of our cooks and chefs who have left their mark on our kitchen, and our serving staff and managers who have been ambassadors of hospitality. Our menu is never done – we find inspiration all around, in new ingredients, new approaches, and fresh takes on old standards."
The location, which will take over the space vacated by Requin, has undergone an extensive renovation, including a building extension that moves diners closer to the Wharf fire pit location.  The restaurant will be open Wednesday through Sunday from 5:30 pm until 11 pm. Based on the initial photos, there is little doubt that ilili will thrill diners and be a great success at the District Wharf.