Namaste, neighbor – Join the DC Wharf Community at Yoga Factory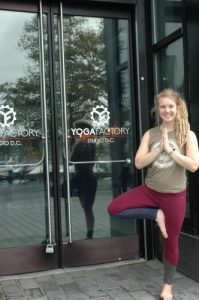 Enter through the doors at Yoga Factory at the DC Wharf and discover a community committed to fitness, healing and neighborhood camaraderie. Once you register and attend your first class you will depart the studio a relaxed and motivated individual…with all new retail swag and the next class booked.
Yoga Factory offers classes and sound and meditation workshops for any level yogi outdoors in the nicer weather months and in two rooms at The Wharf studio. The Moon Room is the venue for slightly heated yoga practices such as Vinyasa, BUTI,  high-intensity interval training (HIIT) and also for less-intense Yin yoga and meditation experiences. The Sun Room offers classes in the Bikram Method (Original Hot Yoga) in a much hotter setting with forced humidity. Amenities include lockers, showers and a retail shop.
Teachers are senior level, and two of them are owners Emily and Phil Vendemmia. Manager Jackie Krakowski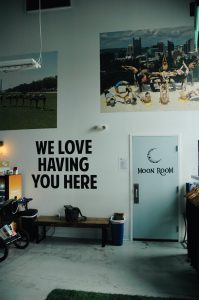 recommends Yin yoga as a complementary level for beginners. There is something for everyone here, and to my surprise, Yoga Factory offers CBD + Sound Meditation workshops using all-natural cannabis plants (non-psychoactive) as a useful tool to reduce feelings of anxiety and to calm the mind. Committing to the Yoga Factory community benefits your mind and body as a whole.
Yoga Factory is celebrating its 2nd year anniversary at The Wharf with a party and plenty of free yoga, throwback deals, and discounted retail on November 9. As part of the celebration, there will be FREE yoga the entire day. New members can join at the original unlimited offer $89 per month. There will also be throwback deals the entire week, free juice tastings and 15% off every retail item in the shop. Namaste, neighbor.
715 Wharf Street, SW Suite #519A
Yoga Factory Photo Album