Family Meals Available at the District Wharf
Several Wharf restaurants are offering a special on their menus called a "Family Meal," as a way for a busy family to treat themselves with a restaurant meal from the Wharf. Other restaurants here at the Wharf have gotten creative with their distributors to provide local fresh ingredients for a "Make it At Home" experience for their customers.
We here at Wharf Life DC have tried these out and highly recommend them for their ease of preparation, creativity, and for the locally sourced ingredients, you can't find this anywhere else.
Family Meals
Pearl Street Warehouse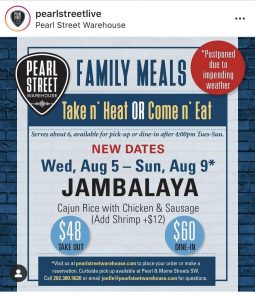 Pearl Street Warehouse is bringing back it's Pearl-On-The-Go meal specials beginning this week with Jambalaya. In the past, Pearl has featured comfort foods such as baked ziti, tuna casserole, and chicken broccoli and rice.
This week's family meal
$48-$60/meal take home vs. dine-in serves six Jambalaya w/out shrimp
$60-$72/meal take home vs. dine-in serves six Jambalaya w/ shrimp
Available at Toasttab.com at the absolute bottom of the menu page, or call 202.380.9620
To make reservations to dine in
https://tableagent.com/washington-dc/pearl-street-warehouse/
For carry-out, visit the MENU page to order online.
https://www.toasttab.com/pearl-street-warehouse/v3
Or call 202.380.9620
Current hours are:
Wednesday-Thursday 4-9 pm;
Friday & Saturday 4-10pm
and Sunday 4-9 pm.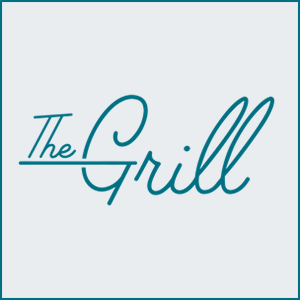 The Grill is offering high end meals with lots of meat, salads, and potatoes.
Current offering:
$30.80/person or $53.90/2 people include – Lamb skewers, caesar salad, grilled chicken breast, two baby back ribs per person, potato salad, and lime pie.
Family meal available through DoorDash or call 202.916.5996
The Grill says,
"Welcome to THE GRILL. We are thrilled to have you join us after months of pandemic‐induced closure that prevented our team from sharing our new restaurant with you."
To dine in, reserve a table here:
To place an order for takeout or delivery:
Seamless.com
Grubhub.com
Ubereats.com
Doordash.com
Exploretock.com

Chopsmith Market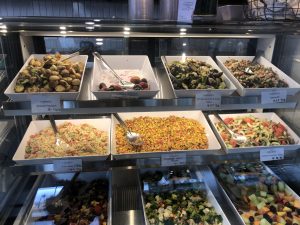 The first space you'll find at Chopsmith, right inside the door, is a selection of meals and sides made fresh daily in the display called Chopsmith Market. The mains and sides are priced by the pound, which makes it easy to buy just what you need for your family.
Chopsmith says, "We offer a rotating selection of pre-cooked main meals, a variety of salads, sides, and sandwiches."
These items are subject to change at the chef's discretion, but promise to be there regularly:
Sides – Old Bay Roasted Potatoes, Roasted Corn Salad, Tomato Cucumber Salad, Crunchy Broccoli Salad, Roasted Vegetable Salad, Tabbouleh, Brussel Sprouts + Onion Salad, Tuna Salad, Orzo Salad, Chicken Salad, and Fruit Salad
Mains – Lasagna (Beef and Vegan), Beef Meatballs & Marinara, Baked Salmon, and Chicken and Cheese Tortellini
You can order ahead at Toasttab.com, get delivery through DoorDash, or call 202-554-5400
Current Hours
Mon-Sat: 8:30am-8:30pm
Sunday: 8:30am-8:00pm
Make it at Home Meals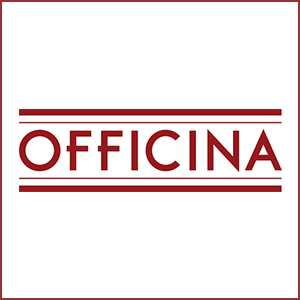 Officina launched it's Officina Provision during the DC lockdown and have been providing a subscription service for $250 per week that includes dinner meals for 2-4 people.
Officina says: "Enjoy everything you love about the Officina experience from the comfort of your home. Officina Provisions is a weekly delivery service that brings the Italian culinary experience to your door, including meal kits, prepared dinners, fresh produce, hand-crafted butcher products, and artisanal snacks and preserves."
The meals are (mostly) prepped and ready for you to cook at home.
Included this week, along with recipes and suggestions, are two whole Amish chickens, 4 Ora salmon fish fillets, 4 fennel sausages, 3 chef-prepared meals of pasta w/sauces, and a pizza you customize from the variety of veg and meats provided.
The Provisions are available as a vegetarian option as well.
And best of all, available as add-ons to your order are cases of fine wine curated by Officina's sommeliers and a variety of other items from coffee and salumi.
Provisions meals are available to order through https://www.exploretock.com
You may also dine in and choose your spot – outdoor balcony, firepit, dining room, or the terrace – make your reservation at exploretock.com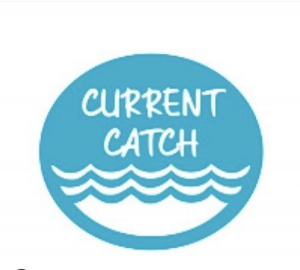 Hank's Current Catch includes curated boxes of fresh seafood and sauces. Hank's says, "War Shore Oyster Company is partnering with chef and restaurateur Jamie Leeds of Hank's Oyster Bar to bring the freshest seafood the country has to offer complimented by flavorful chef-crafted sauces and marinades — delivered directly to your door."
This week's catches include a $99/shellfish box, $109/lobster roll box, and a $139/Jamie's Picks.
New is their customizable box – grab your pick of their fresh seafood, sauces, and Made in Maine specialties, and have it delivered.
Current Catch box is available online here (https://www.current-catch.com/current-catch-seafood-boxes) or by emailing orders@current-catch.com
Two options for Current Catch delivery times:
Order by 5 pm on Sunday for delivery Wednesday the same week.
Order by 5 pm Tuesday for delivery Friday the same week.
Call Hank's 202-817-3055
for on-property dining, pickup, and delivery
Tuesday-Thursday 4 pm – 9 pm
Friday 4pm – 10pm
Saturday 12pm -10pm
Sunday 12pm -8pm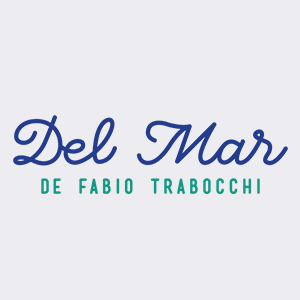 The Del Mar promotion says, "Bring Fabio home for a fabulous feast," which sounds like a very good idea. Chef/owner Fabio Trabocchi won't really be coming home with you, but Del Mar has some terrific summer party packs and grill boxes available for pick up. The meals run from $260 per four person box to $520 designed to feed eight people.
Here's the list:
THE GRILL MASTER BIG BOX
$260 (4 people) $520 (8 people)
Fire Up the Grill! We've got everything for your summery Family Dinner in the box! Entrees are seasoned, marinated and ready for the grill. We've added heat-and-eat vegetables, sides, and desserts to finish the pack. Easy grilling, heating, and assembly instructions are provided so you can't miss!
CHESAPEAKE CRAB SUMMER FEAST
$225 (4 people) – $450 (8 people)
Can't get to the Beach? Our easy oven-ready Maryland Crab feast makes you feel like you're there! Ready for the whole family, each Big Box Chesapeake Crab Pack serves 4. Easy assembly instructions make putting this meal together a breeze!
LOBSTER ROLL PARTY PACK
$154 (4 people) -$298 (8 people)
A New England Classic with an Old World Twist! Our Maine lobster tail and claw meat salad served on soft brioche buns with lemon and baby lettuces. Salads, sides and summer desserts complete the pack. Easy to assemble!
SUMMER SALAD NIGHT PARTY PACK
$122 (4 people) – $224 (8 people)
Too hot to cook? Cool off with a farmstand fete of refreshing salads. All of our house made salads feature the fresh-from-the-farm ingredients. No fuss and a snap to assemble, each Summer Salad pack comes with artisan bread rolls and summery sweets.