Colada Shop Coming to DC Wharf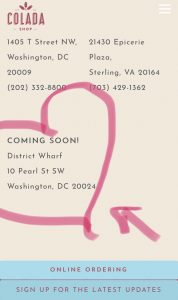 According to its website, Colada Shop is in the process of expanding its brand to include a new location at The District Wharf. The Cuban themed restaurant, which offers authentic food, coffee, and cocktails, posted a "Coming Soon!" message on its website indicating it will open at 10 Pearl Street, SW.  This location would put Colada Shop in the vacant space next to Lupo Marino and across from Pearl Street Warehouse. 
A Colada Shop move to Pearl Street would make for a multi-ethnic, food, drink and music scene in the heart of the Wharf. Also located on or near Pearl Street is Kaliwa, an Asian inspired restaurant, Kirwan's on The Wharf, a Irish restaurant and pub, Union Stage, a live music venue that features craft beer and amazing pizza, Lupo Marino which offers Italian fare, and Pearl Street Warehouse, which is a live music honkytonk with classic American food. 
Construction workers were spotted last week at what would be the Colada Shop storefront. From Pearl Street, one could visibly see plumbing, electric wiring, and drywall framing in place.  Colada Shop did not respond to requests for comment, but based on what we saw, an opening isn't expected for several weeks at a minimum. 
The Colada Menu offers a full list of breakfast, lunch, and dinner options including breakfast sandwiches in the morning and empanadas and Cuban sandwiches among the items found on the "all-day" menus.  The coffee menu includes Cafe Cubano, Cafe Con Leche, and Cafe Bon Bon, which would go well with Colada's line-up of deserts including Churros and Tres Leches. 
We are all hoping Colada Shop is applying for a license to sell alcohol and bring its "Calle Ocho" inspired cocktails to The Wharf including Mojitos, Pina Coladas, and Cascara Cuba Libre. 
Imagine an evening with friends and neighbors milling about a lively Pearl Street with so many fun and entertaining options.