Chopsmith Now Officially Open at The Wharf DC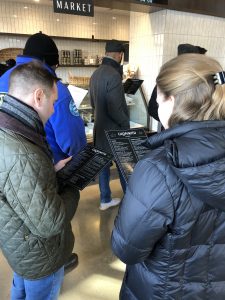 The much-anticipated opening of fast-casual salad bar, Chopsmith, is now a reality and lines are already forming. The restaurant, which was launched by the owners of Toastique, officially opened on Monday, January 20th at the corner of 9th Street and Maine Ave at District Square. 
The menu includes salads, grain bowls and other healthy options made to order.  Among the salads that catch our eyes are grilled kale Caesar, Wharf Louis which includes lump crab meat, shrimp, bacon, grilled avocado, a hard-boiled egg and greens, and a Spanish Nicoise with grilled shrimp, chorizo and lots of greens, veggies and shaved manchego. 
Grain bowls include salmon & grilled avocado bowl with quinoa, the "Buddha" with roasted cauliflower, roasted sweet potato, tabbouleh, and lemon tahini dressing, and a roasted chicken bowl that comes with gourmet greens, brown rice, and roasted vegetables with a lemon and white balsamic vinaigrette. 
The selection of protein add-ons includes grilled chicken, grilled steak, grilled shrimp, baked salmon, lump crab, ginger miso tofu, and grilled halloumi. 
We stopped in for a salad during the "soft-opening" where even then Wharf residents and workers were lined up for lunch.  We got the grilled kale Caesar with grilled chicken. We were extremely impressed by the freshness and flavors of the salad! 
Especially exciting for those of us that live and work at The Wharf is the selection of prepared meals and salads that can be taken home for lunch or dinner.  Available at the counter are ready to heat lasagnas. Additionally, there is an array of salads by the pound that includes pasta, tuna, broccoli, and fruit salads. 
Chopsmith has limited indoor seating and is expected to have outdoor seating when the warm weather arrives. The hours of operation are 10am – 10pm, Monday – Saturday; 10am – 8pm, Sunday. 
Chopsmith Photo Gallery