Milk Bar for the Sugar Obsessed at The Wharf DC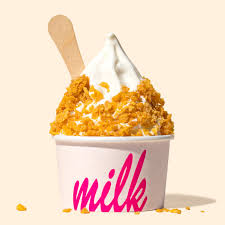 Milk Bar, the delectable bakery located at the Wharf DC, is an obsession for many who crave cake, pie, cookies, and soft-serve. The dessert restaurant is a take-out shop where you can get a quick sugar-fix or pick up something sweet for a special occasion including birthdays, anniversaries, and just any old day. 
Perhaps the obsession stems from the addictive flavors at Milk, reminiscent of childhood. For example, one of Milk's most talked about items is Cereal Milk Soft Serve, which tastes just like the last sip of milk left in the bowl of corn flakes. 
The dessert restaurant is the brainchild of Christina Tosi, who opened the first Milk Bar in NYC in 2008. Tosi, a self-proclaimed junk food addict, began baking as a child and never really stopped.
The dessert that first got her noticed is the Milk Bar Pie, formerly known as Crack Pie, because it is only slightly less addictive than actual crack. The ingredients are fairly simple: sugar, brown sugar, milk, cream, and butter. But there's magic in that pie and the flavor can be deliciously overwhelming.
If pie isn't your thing, wait until you get the cakes.  Actually, don't wait. The birthday cake is three layers of funfetti and it is a special treat anytime of the year. 
Milk Bar keeps a line of fresh cookies and truffle balls in stock at all times. The styles for cookies include the Compost Cookie made with Ritz Crackers and Corn Flakes, Blueberry & Cream, Cornflake Chocolate Chip Marshmallow, and Confetti. The truffles, which have similar styles come three to a pack, and make for the perfect snack. 
Milk Bar is well-positioned at The Wharf. Located in Wharf's District Square, the bakery can be found conveniently next to what is soon-to-be the newest Surfside and the new ChopSmith and Diament shops.  It's an easy stop, with a long table for pausing with your group, sharing a cookie and a milkshake, before moving on along the waterfront.
Our favorites
Cereal Milk Soft Serve

Milk Bar Pie

Birthday Cake
Hours
Monday-Thursday: 11:00am-11:00pm

Friday-Saturday: 11:00am-12:00am

Sunday: 11:00am-10:00pm