Fourth of July at the District Wharf
There is no better place in DC to watch the fireworks than from the District Wharf.
It's waterfront, there are many viewing options, and there are plenty of drinks, food, and fun. If you are one of the lucky ones with a boat at the Wharf, then you've got it made. If not, there are lots of great rooftop and waterfront locations from where to enjoy the fireworks show.  
The National Park Service fireworks display will be held on Monday, July 4, starting at 9:09 p.m. and will be launched from both sides of the Lincoln Memorial Reflecting Pool. You will want to be in position with a comfy spot well before the fireworks begin.
Getting to the Wharf on the Fourth 
Save yourself pain and suffering and consider alternate transportation instead of driving. The limited parking at the Wharf will fill up very early and there's little sense in being stuck in traffic when you should be enjoying the waterfront. Yes, we are saying in this case it is easier to take Metro than drive!  The Wharf is walking distance to the Waterfront stop on the Green line and L'Enfant Plaza on the Green and Yellow lines. The Circulator and the SW Shuttle also stop in front of the Wharf and are both very reliable. The Water Taxi arrives at Transit Pier from Georgetown, Old Town, and National Harbor. More info: Getting to the Wharf
Fireworks Viewing Parties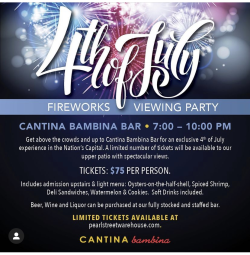 Cantina Bambina, located at Transit Pier, is offering an exclusive opportunity to get above the crowds for the fireworks display. Tickets are limited and $75 per person and includes admission upstairs, oysters-on-the-half-shell, spiced shrimp, deli sandwiches, watermelon, cookies, and water. Beer, wine, and liquor can be purchased at the bar. More info: Cantina Viewing Party
Brighton
, located adjacent to Transit Pier, will have hotdog and beer specials all day Monday startin
g at noon.  No tickets, no reservations. Great viewing area for fireworks. More info:
Brighton
LaVie, the chic Mediterranean restaurant, is hosting a "Diamonds in the Sky" event for the fireworks. Tickets are $59 for standing room only. Doors open at 3pm. More info: Diamonds in the Sky
Officina has a rooftop bar with a truly stunning view. Reservations can be made for up to six people for a personal fire pit. Deposit is $60 per person from which all food and drinks will be applied.  Available for parties of six, aka three couples or two truples.  More info: Officina 4th 
Pearl Street Warehouse has the free pre-party with live music featuring Moonshine Society w/ Anthony Swamp Dog Clark doors at 3pm. More info: Moonshine at Pearl Street
12 Stories, the high-end rooftop bar at District Square, invites guests to make a reservation and enjoy the fireworks from 12 stories high. DJ Farrah Flocett will be making music. More info: 12 Stories Fireworks