Gordon Ramsay Fish and Chips to Open at Wharf 
Gordon Ramsay is doubling down on his investment at the District Wharf and opening a second restaurant later this year. In February of this year, it was announced that Ramsay will extend his Hell's Kitchen franchise to the Wharf. In a somewhat surprising announcement, the British celebrity chef recently announced he will also open Gordon Ramsay's Fish and Chips. Hell's Kitchen will be located in WB2 (652 Water Street), and the Fish and Chip shop will be across the street at 665 Water Street at the base of the Williams & Connolly building.  
The Wharf location will be the third expansion for Ramsay's Fish and Chips franchise. The other locations are Las Vegas and Orlando. A review of the Vegas menu shows a compact list of offerings including a number of seafood options such as fish, shrimp, and lobster combinations. 
The Fish Combo comes with three pieces of "crispy cod," sea salt chips, a fountain drink, and a choice of two sauces. The sauce options are "Gordon's Tater," curry and mango, Sriracha Aioli, southwest ranch, Dijon mayonnaise, and cocktail. There are three options for chips which are natural sea salt, jalapeño/chorizo, and truffle parmesan.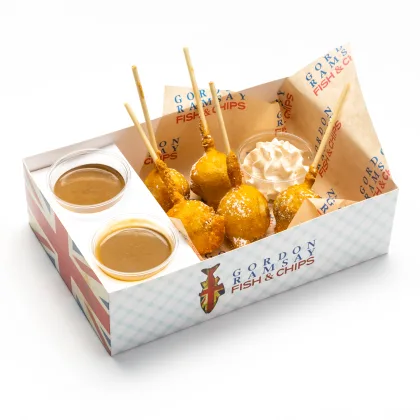 The menu also offers a variety of sweets including shakes and "sticky toffee pudding pops."
"Fish & Chips is a really important dish to me, not only is it quintessentially British but it was part of my upbringing. I've found a way to elevate that classic dish, dress it up and really modernize the experience. I've had 3 stars in Chelsea for over 2 decades, 2 stars in France, restaurants around the globe – but my mum is most proud of the chippy," said Ramsay on his website. 
The restaurant will have 28 seats inside and 30 more seats outside according to Michael Neibauer of the Washington Business Journal.