Watch "Parade of Lights" at Wharf this Weekend! 
The District Holiday Boat Parade will be held this weekend at the Wharf and will feature nearly 70 brightly decorated boats floating up the Washington Channel that can be viewed from the Recreation and Transportation piers.
The fun starts at 6pm and includes beer and wine gardens, live music, ornament decorating, and fireworks.  Santa Claus will be on hand and taking gift requests. The fire pit will be roaring and a fine place to make the perfect s'mores. The Wharf ice rink will also be open for those who want to strap on the skates.
A host of defending champions will be back on the water this year competing for cash prizes and bragging rights.  They include:
Best in Parade, overall champion, Ramsey Poston, won in 2019 with support from the Wharf Life DC team, for its boat which included the "world's largest" World Series Trophy and championship party theme.
Bob Rose of Wharf Gangplank Marina, won Best in Parade in 2017 for his "Live Action Snow Globe" and Best Motorboat in 2019 with his "Holiday Memories" theme. The parade was cancelled in 2020 due to Coronavirus, but that did not stop Bob. Last year, Bob hosted his own parade that included just his own boat with the theme of "Winter Wonderland Fun.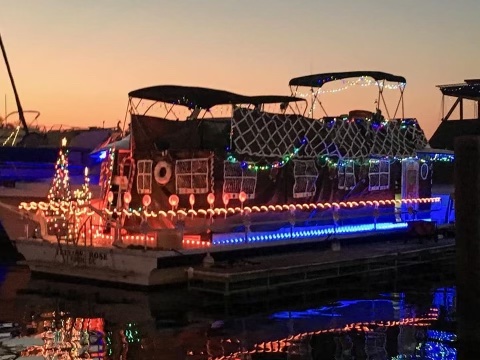 Kathy Heet, of Wharf Gangplank Marina, turned her 60 Gibson houseboat into a Ginge
rbread House and won Producers Choice Award 2017, and won the grand prize, Best in Parade in 2018 with a "Nightmare Before Christmas" theme.  
Parade Schedule
6:00–9:00pm — Activities throughout The Wharf (Waterfront Beer and Wine Garden, s'mores, and live music)

7:00pm — Boats arrive in the Washington Channel 

8:00pm — Fireworks Salute

8:15pm–9:00pm — Live music on District Pier Stage
There are many ways to get to The Wharf that are better than driving and parking. Learn more about Getting to The Wharf, including the Free Southwest Shuttle, Water Taxi, and Metro service updates.
This event will take place rain or shine. Actual start times may vary pending parade progress.
Holiday Boat Parade Photo Gallery
photo credit: R.Risley
Photo by Francis Chung.
photo credit: R.Risley
Fireworks at The Wharf photo credit: District Wharf