Tasting Menus Featured at Nara-Ya
Nara-Ya, which planned to open an izakaya (a bar that serves small plates) last year, could have easily been a victim of the pandemic, but the management team never gave up the dream of opening a Japanese-inspired restaurant at the District Wharf. Like so much in life these days, the vision had to be adjusted for the times, and last week Nara-Ya finally opened its doors.
Rather than an izakaya, Nara-Ya went big with two five-course tasting menus (including a Vegan option). Guests begin with an assorted amuse-bouche followed by a beautifully presented Kaiso seaweed salad, then a dish of Zuke Tuna smoked in a cloche dome. For the next course, guests may select from a squab (pheasant), soy-braised short rib, or Japanese A5 Wagyu.
Seaweed salad
Nara-Ya A5 Wagyu
Reviews are so far sensational and include five stars across the board on Open Table. Owner, Naeem Mohd, is very excited about the restaurant's first week and its future. He says the opening "went fabulously for both our guests and team. Customers have enjoyed a unique experience. We received nothing but positive feedback from all of our customers." 
Mohd is part of Eaternity Hospitality Group, which also owns La Vie, located a floor above Nara-Ya at District Square. Mohd and his team, which includes Executive Chef Lucas Irwin under the direction of Culinary Director Kaz Oshiro, had to make adjustments to the initial plan. "Due to the pandemic, we immediately knew we had to pivot and adapt to our new model," says Mohd. "We wanted to stay with a Japanese Cuisine menu that provides sushi, but we wanted to have the cuisine match the view, décor, ambiance, and service."
One aspect of the business plan that didn't need to be revised very much is Nara-Ya's fancy cocktail program that includes drinks such as The Hidden Fortress (Toki, Biscotti Faretti and a mixture of clarified blended juices), The Ballad of Yasuke (Uncle Nearest 1856, blood orange), and A Little Wagyu and Whisky Never Hurts (signature whisky adorned with a piece of A5 Wagyu torched tableside).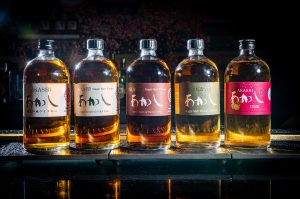 Thinking back over the past year of transition, Mohd says they learned a lot about the importance of being flexible. He says, "the pandemic absolutely threw us for a tailspin. More than anything, it taught us that although we were all forced to live in our own little bubble, we all had the spirit and ingenuity to bring Nara-Ya to life. This has definitely helped forge a great team that now makes Nara-Ya, and we hope that it shows with the love and care that we poured and will continue to show – we have been so lucky and fortunate."
Once COVID related capacity restrictions are eased, the izakaya originally envisioned, including an a la carte menu may become a reality. In the meantime, be sure to explore the current tasting menus!