If You Must Drive to Wharf DC – Here are Your Parking Options
There are a ridiculous number of better options for getting to the DC Wharf than driving, including Metro, Circulator, water taxi, bike, but we realize sometimes driving might be the only option.  If you gotta do it, you gotta do it. 
Below, are your parking options at the DC Wharf and the nearby neighborhood. For all other options see How To Get to The DC Wharf. 
Parking at The Wharf DC proper
The Wharf has a 500 space, underground parking garage, open 24 hours, with three entrances that can be reached from Blair Alley, Sutton Square and 7th Street Park. The garages use the ParkMobile app (Zone 326), which makes exiting pretty easy because you are prepaid and won't have to stop at the ticket machine.  
Blair Alley Parking at The Wharf
This garage entrance is closest for anyone coming from Independence Ave. or the 14th street bridge on Rt. 1 from Virginia. As you proceed west on Maine Ave. from either Independence or Rt. 1, look for parking signs on your right, just past the Municipal Fish Market, which is the Blair Alley parking entrance. 
Sutton Square Parking at The Wharf
The Sutton Square parking entrance is most convenient for vehicles coming from 9th Street or from I-395 North.  Although 9th Street feeds directly into The Wharf's District Square, there's no parking access there, so turn right onto Maine Ave. for one block and the Sutton Square entrance is on the right, just past the CVS.  
7th Street Parking at The Wharf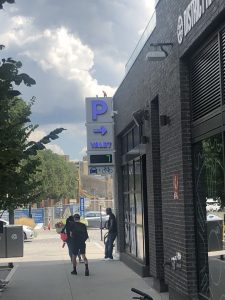 The 7th Street parking entrance is a direct shot from, uh, yeah, 7th Street, which is good for anyone driving from downtown, Chinatown, Shaw, Petworth, and Anacostia via 395 South. When on 7th, you'll cross Maine Ave and turn right into the garage just past Canopy by Hilton.   This entrance is also convenient for anyone coming from Capitol Hill, Barracks Row, and Navy Yard. If coming from these locations, take M Street to Maine Ave, turn left on 7th Street and follow signs into garage.  
Parking Rates at the DC Wharf
Weekdays
First 30 minutes: $5

1 Hour: $10

2 Hours: $18

3 Hours: $24

4 Hours: $29

More than 4 Hours: $38
Weekends and Special Events
First 30 minutes: $5

1 Hour: $10

2 Hours: $18

3 Hours: $25

4 Hours: $35

More than 4 Hours: $45
Parking Options Near the DC Wharf
Fish Market
Even though technically this is still Wharf property, it's really suited for short term parking.  If you turn right into the market from Maine Ave. you will find limited meter parking. Perfect if you are picking up a quick bite at the fish market or getting a cone from SW Soda Pop Shop!  
Here is a list of other nearby parking lots: 
The Portals
Two parking options at The Portals:
1201 Maryland Ave. SW 
Weekdays: 6:00 am to 11:00 pm | Weekends : 9:00 am to 8:00 pm

Overnight parking is not allowed at this location.

Max rate – $22
1250 Maryland Ave. SW
Weekdays: 5:00 am to 11:00 pm | Weekends : 8:00 am to 12:00 am

Max rate $21; Overnight $52
Mandarin Oriental Hotel 
1330 Maryland Ave. SW 
0-2 hours $25

2-7 hours $35

7+ hours / daily and overnight parking $55
Federal Parking Lot
550 12th St. SW 
Closes at 7 pm

$18 per day
Ace Parking at L'Enfant Plaza, SW
480 L'Enfant Plaza SW
1st Hour $10

2nd Hour $15

Max rate $23

Overnight (after 12 am) $44
Arena Stage
1101 6th St. SW 
Opens at 5 pm

$24 – first come, first served, on theatre days

(202) 365-2065
S&P Parking Company
1100 4th St SW, Washington, DC 20024
S&P Parking Company
1101 4th St SW, Washington, DC 20024