Music Venues are the Heart and Soul of The District Wharf
There is a short list of things that keep the District Wharf from strictly being a tourist attraction – the Municipal Fish Market and the live music venues. That's it. In normal times, these entities keep locals coming to the southwest waterfront year-round. The fish market has been around for over a hundred years and would do fine with or without the District Wharf.
The live music venues, however, are a different story. The venues, including The Anthem, Union Stage, and Pearl Street Warehouse drive critical revenue for many of the District Wharf businesses. In short, they are the lifeblood of the Wharf.
The Wharf merchants will tell you that every time there is a show at The Anthem (capacity 6,000), it is a major shot in the arm. Even in the best of times, a sold-out show at The Anthem along with competing shows at Union Stage (capacity 450), and Pearl Street (capacity 300), helped the businesses fiscally make their week. 
We at Wharf Life DC, have long said the genius of the Wharf is the installation of the local music venues. Without the venues, the Wharf would be faced primarily with seasonal tourist business without much DC flavor. But the live venues, which have brought in a truly amazing slate of live music for all tastes and genres, drive business, give the Wharf a true neighborhood feel, and bring joy and excitement as a result of their shows and events. 
It's an open question whether any of the three venues at the Wharf can survive the effects of the coronavirus without specific financial help. It's another question whether the District Wharf, as we know it, can survive without the venues back in operation. 
Recently a lobbying group representing the small music venues nationwide was created. The National Independent Venue Association (NIVA), of which all three Wharf venues are now members, are fighting for the survival of small music halls nationwide.

If you have spent any time in a small venue, you know the people who operate them are fiercely independent. They are small business owners who drive revenue as a result of booking (often unknown) bands, selling tickets, creating a fun atmosphere, and working until dawn.
For the first time ever, they have banded together to form a lobby group to urge Congress to prioritize the live music venues in another round of stimulus spending. A stimulus package approved by Congress in March helped many industries including the airlines, farmers, casinos, and even makers of sunscreen. Another round of stimulus is being debated in Congress now, and specific support for small venues needs to be included. 
NIVA is working in the halls of Congress to support its members.  According to NIVA, the goal of the legislation it supports is "to enable independent venues to survive the crisis, reopen in the future, and once again contribute to the economic revival of our communities."
In a letter sent to House and Senate leaders, NIVA makes the point that small venues have "no opportunity to generate revenue, and we have no work to offer most of our employees." NIVA estimates that for every $1 spent on a ticket at small venues, a total of $12 in economic activity is generated within communities on restaurants, hotels, taxis, and retail establishments. Here at the Wharf, it's likely those figures are much higher. 
Most health officials believe large gatherings such as concerts, will be among the last to become fully operational again. Once permitted to host live events, it will still take months for venues to resume their full schedules. To this point, NIVA is also seeking national guidelines for large gatherings to occur in a safe manner. Uniformity across the country and throughout the industry will ensure artists can resume a stable tour schedule and fans can safely come and enjoy shows once again.
Here's how you can help.  Go to SAVE OUR STAGES and then to the TAKE ACTION tab and send your legislators a letter urging them to support small venues by agreeing to sign onto the Cornyn/Carper letter in the Senate or the Cleaver/Williams letter in the House that supports federal assistance for independent venues.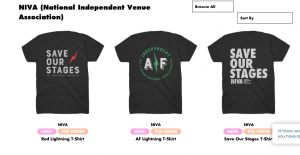 Also, the NIVA website has some very cool merch for sale.  Also, follow NIVA on Facebook, Instagram, and Twitter and share its #SaveOurStages anywhere you can.  Finally, you can support individual venues by purchasing gift cards and advance tickets.  
A world without live music venues is not a world we want.  
Help out where you can.  
Take action. 
Be a rockstar.