Arrive Early and Stay Late at The DC Wharf Spa by L'Occitane
Arrive early and stay late at The Wharf Spa by L'Occitane. That is exactly what I did. I scheduled a 30-minute signature treatment Foot Reviver- Reflex Massage ($95) during my lunch hour, and no kidding, I happily stayed for over two, unplanned self-care hours. 
In the small yet charming waiting room, my day spa adventure began with a pleasant check-in experience surrounded by the many products of the French beauty brand L'Occitane. Then, the concierge guided me to the women's locker room. Bright from natural daylight, I changed into the plush robe and sandals, locking up my belongings with a key that I kept in my robe pocket.
The full sensory experience continued in the lounge as I sipped aromatic lemon-verbena tea and chewed candied ginger while overlooking boats on the Washington Channel at Capital Yacht Club. Here is where lead therapist Lisa Anderson met and led me to one of five treatment rooms.
Lisa is an expert. I experienced a nourishing and hydrating treatment using Revitalizing Aromachologie Oil. L'Occitane products accent every treatment, and are not overpowering but subtle and tranquil. I concluded my experience with what us boat people call a land luxury: an incredible shower.
Why did I wait so long to experience the The Wharf Spa by L'Occitane? I don't know but I will be back. I L'OVED it.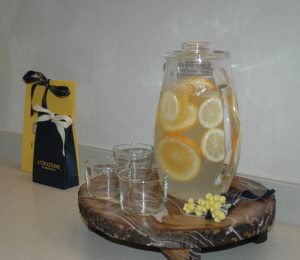 September Special: With a 60 or 90-minute body massage you will receive 10% off any L'Occitane product.
Tips: Mention that you are local and receive a 10% discount. The concierge kindly added gratuity directly to my credit card.
Cost: There is a treatment for every budget. Facials last anywhere from 30 to 90 minutes and cost $108 to $275 in addition to a variety of signature massage treatments.
Spa by L'Occitane 
801 Wharf St., SW
202-878-8486
Photo Gallery