The Definitive List of
Happy Hours at the Wharf DC
Six months into the COVID era and we are all staying vigilant to keep socially distanced and masked. Gone are the days of packed bars and happy hours, but at the District Wharf some establishments are now offering limited daily drink and food specials.  Here's the definitive (and alphabetical) list of happy hours at The Wharf, and where to find the bargains.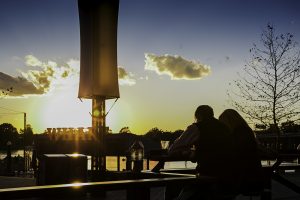 This two-level building has lots of room for social distancing and happy hour options including the patio areas and its summertime popup at Market Pier, Brighton Beach.  The restaurant is open Thursday through Sunday and offers lobster rolls and specialty cocktails called "Ice Breaker of the Week" that are different flavors each week. The week's flavors are announced on Brighton's IG account.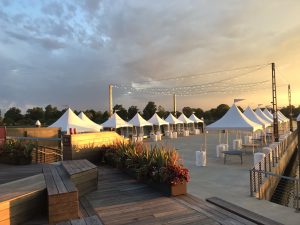 Located above Transit Pier,Cantina Bambina provides the closest views of the Washington Channel and nearby marinas. It's an open-air bar and known for its fun vibes. Bambina forgoes traditional happy hours for daily specials and events. Daily specials include $6 Truly Lime every Tuesday and $6 Pacifico Beer every Wednesday. Bambina hosts Sunset Cinema, a weekly movie night on Transit Pier with social distanced cabanas. Every Saturday and Sunday, enjoy crabs, Pacifico Beer, and waterfront views in your private crab cabana on Transit Pier. Reserve your cabana now!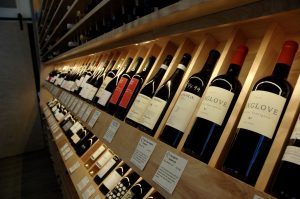 The ultimate social distanced experience…at home alone or with loved ones, Cordia stocks some of the best craft beer, wine, and spirits in DC. Every Saturday, Cordial hosts a virtual wine tasting where they highlight two specialty wines. The two featured wines from the virtual wine tasting are then 10% off all week long. 
The Grill has brought back the Martini and even has a make your own Martini menu where you can have it as filthy or as dry as you desire. In fact, The Grill offers over 100 gins and vodkas, so there is something for everyone.  This swanky, steak and seafood restaurant has a Miami vibe with indoor and outdoor seating.
The Grill celebrates happy hour Monday-Friday from 3pm-6pm with a fun menu featuring grilled lamb skewers ($3), caramelized onion dip ($9), and oysters rockefeller ($12). Their drink list includes draft beer, wine, and specialty cocktails like The Grill Martini ($11) and Grill Punch ($8 glass/$39 pitcher). View their full happy hour menu and make a reservation online or by calling 202-916-5996.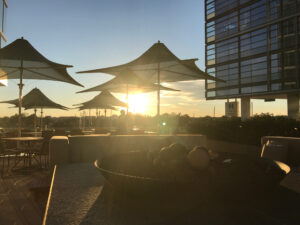 Don't sleep on H Bar. It's a fun hideaway at the Wharf.  Happy hours are Wednesday-Sunday from 5pm-10pm.  H Bar is celebrating seltzers this summer by offering mix and match Bud Light Seltzer Buckets for $25 (6 seltzers per bucket). Guests can choose from a variety of flavors including black cherry, mango, lemon, lime, and strawberry.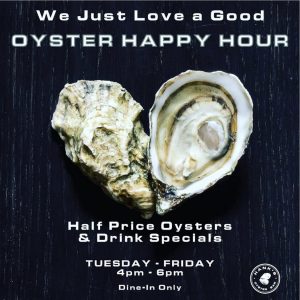 Located near Recreation Pier at 7th Street, Hank's has extended outdoors areas including its patio to ensure social distancing. For happy hour Hanks has half priced oysters and drink specials.  Oyster Hour is available every Tuesday-Friday from 4pm-6pm. Make a reservation online or by calling 202-817-3055.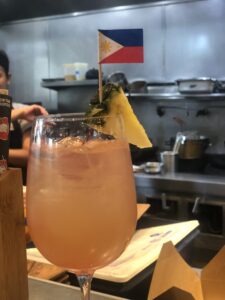 Kaliwa celebrates happy hour from 2pm – 5pm daily with $5 or $7 specialty cocktails. Drinks can be paired with a meal and enjoyed on their outdoor patio or take it to-go.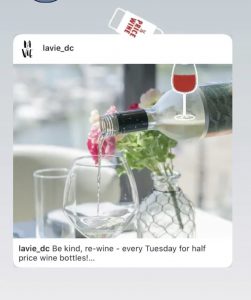 La Vie's ornate Mediterranean decor, located high above the promenade at District Square, has broad views of the marina and beyond making this chic location a happy hour favorite. Tuesday's are the happiest of days at LaVie, which offers half price bottles of wine every Tuesday.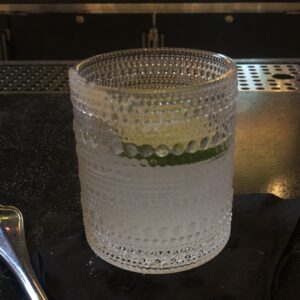 Mi Vida is a high-quality Mexican restaurant located at District Square near Transit Pier.  The space is beautiful and provides lots of outdoor seating for social distancing. Happy hour is held every Monday-Friday from 3pm-6pm. Their happy hour menu features light bites, appetizers, wine, cocktails, and cervezas. Tuesdays are even happier because it's Taco Tuesday at Mi Vida. Enjoy two tacos for $9. Make a reservation online or by calling 202-516-4656.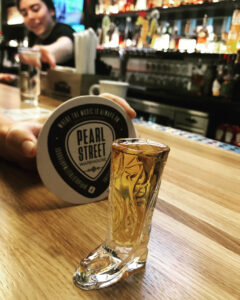 For all the glitz at the Wharf, Pearl Street Warehouse is our very own honky-tonk.  It is the place to go for "Wharf locals" and the kind of place where everyone knows each other.  Happy hour at Pearl Street is every Tuesday-Thursday from 4pm-7pm, and features $5 Manor Hill Pilsner Drafts, $5 Genesee Cream Ale Cans, $6 House Red/White/Rose, and $1 off Rail Mixers (single pour, single mixer). Make a reservation online or call 202.380.9620.
Wharf DC Happy Hour Photo Gallery