Schedule of Sunset Cinema Screenings at the Wharf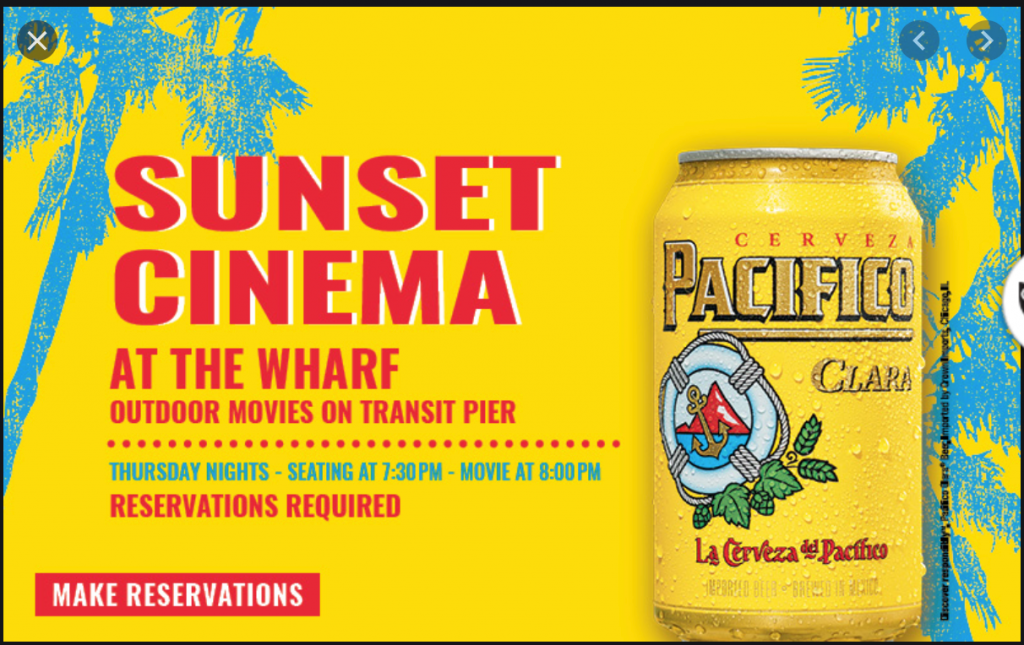 Movie night is back at the Wharf and the 2021 line up includes something for everyone.  
Each Thursday, the Wharf will show a featured movie for free on its 20 foot outdoor LED screen on Transit Pier across from Brighton and next to Cantina Bambina. Movie night is free but all are asked to pre-register in order to reserve a seat.  Groups can register up to six at one time, if more tickets are needed, another registration will need to be completed.
Chairs are provided and capacity is limited. Registration will open on a rolling basis to help minimize no-shows and the Wharf will release additional tickets the week of the screening, when available.
Food can be brought in from the outside but all beverages (hard and soft) must be purchased from the Cantina Bambina snack window.  The movie series is sponsored by Pacifico, so expect plenty of Cerveza Pacífico Clara! 
Tickets are non-transferable between screenings. In the event of inclement weather that causes the Wharf to cancel a screening, the Wharf will notify those with reservations via email. Dogs are permitted to join in the movie night fun.  Also, children under the age of three may sit on their parent's lap.
The Wharf asks that a liability waiver be signed, which can be found at: Event Waiver.  Reservations can be made at: Sunset Cinema.
Movie times are 7:30pm, here's the 2021 Movie Lineup:
June 17 – Happy Gilmore

June 24 – Bohemian Rhapsody

July 1 – Apollo 13

July 8 – Goonies

July 15 – 42

July 22 – Girls Trip

July 29 – Best in Show

August 5 – Jersey Boys

August 12 – Ratatouille

August 19 – Ford v Ferrari 

August 26 – Ferris Bueller's Day Off

September 2 – Office Space