Go Vietnamese in the Morning for Breakfast and Brunch at Moon Rabbit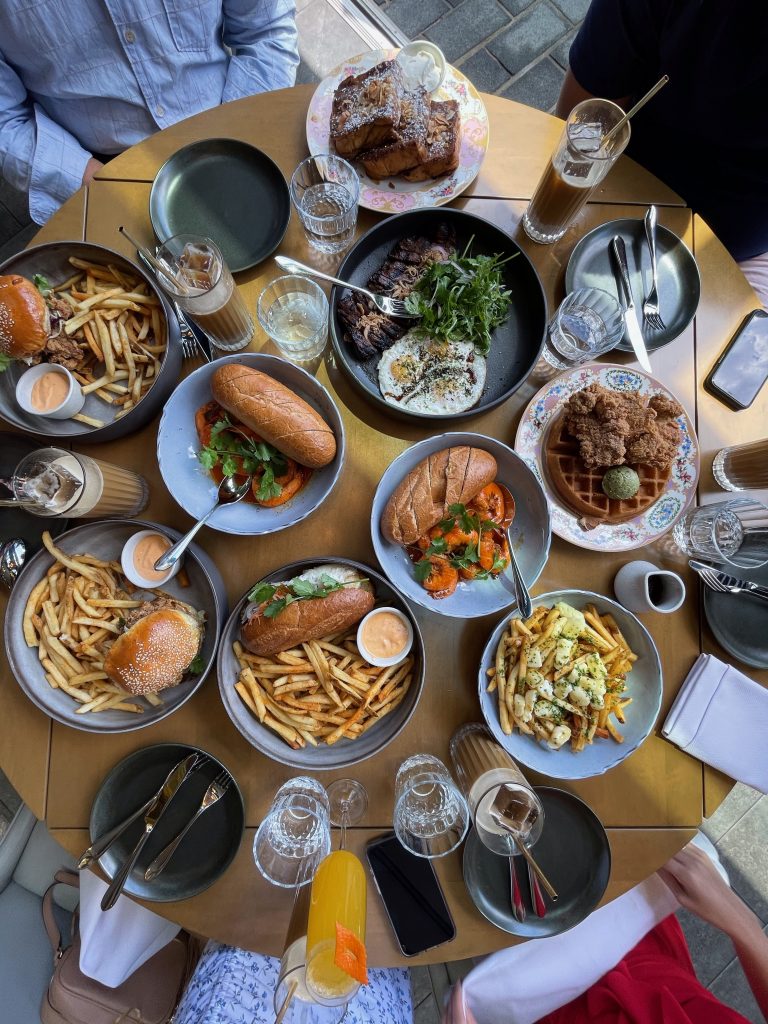 Moon Rabbit recently launched a breakfast menu, available seven days a week, including traditional American and Vietnamese options. The breakfast menu is a welcome addition to the neighborhood and for hotel guests looking for a morning meeting place or a fun breakfast option. 
Morning diners can find standard American fare such as a three-egg omelette, eggs Benedict, pancakes, or a Belgian waffle. For a taste of Vietnam, the morning menu offers a lemongrass sausage breakfast bowl that comes with curry coconut rice, lemongrass sausage patty, Maggi gravy, herbs, fried egg, pickled onions, and fried garlic. 
There is also a vegetarian option that includes curry coconut rice, bean sprouts, beechwood mushrooms, poached egg, ginger scallion, and season greens. Another Vietnamese featured dish is a thick cut French toast covered with powdered sugar, coffee condensed milk syrup, toasted coconut flakes, and whipped cream. 
Moon Rabbit, a modern Vietnamese restaurant, is located on the ground floor of the InterContinental. Executive chef, Kevin Tien, is an established chef who was named on Food & Wine's 10 "Best New Chefs." Tien says that his menu is a "love-letter" to his family's Vietnamese roots. 
Moon Rabbit added brunch earlier this year, which includes fun selections such as a "sloppy Viet Banh Mi", chicken & waffles, pho seasoned fried chicken sandwich, Saigon cinnamon rolls, and breakfast rolls. 
Brunch has a dedicated drinks menu with alcoholic beverages and non-alcoholic cocktails. Moon Rabbit's Bloody Mary, the Pho Bloody Mary, contains chili infused Belvedere vodka and is mixed with garlic, tomato, cucumber juice, Sriracha, hoisin, and lemongrass.  If you are in need of bubbles, there is passion fruit mimosa to choose from, and to get the party really started there is a coconut rum punch.  
The zero proof cocktails include no-groni spritz (Grove 42 citrus non-alcoholic spirit, Parisienne bitter tea cordial, Fever Tree aromatic tonic) and a soda chanh (Garden 108 non-alcoholic spirit, ginger syrup, lemon juice).
Breakfast is served Friday – Monday, 7am – 10:30am, and brunch is available Saturday and Sundays, 11:30am – 2:30pm.  Reservations are recommended, but the restaurant is currently accepting walk-ins. Moon Rabbit is following DC's mask mandate, requiring all guests to wear masks indoors.
Moon Rabbit Photo Album
Veggi Bowl
Banh Mi
Sloppy Banh Mi
Legit Banh Mi
Coffee Cocktail