The Definitive List of
Happy Hours at the Wharf DC
The DC Wharf is chock full of places to eat and drink and there's no better view in the city to enjoy all the fun. There are many options for fun at the Wharf that range from swanky to the casual. It's good to know that bargains can be found at the DC Wharf when it comes to Happy Hour! 
Here's the definitive (and alphabetical) list of happy hours at The Wharf, and where to find the bargains. 
Brighton SW1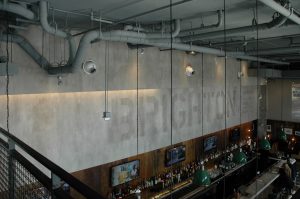 Brighton is right in the middle of it all, especially prior to Anthem shows, which is right next door. This two-level building has lots of happy hour options from gathering in the main bar area loaded with tvs, to the two outside patio areas and a lookout bar with broad views of the marina and the Wharf promenade.  
HH Hours
Monday – Friday, 4:00pm – 6:00pm
Drink specials
$2 Off all wine

$2 Off well drinks

$5 Tecate

$7 Sam Adams '76

$7 Peak Organic Happy Hour Pilsner

$7 Truly Wild Berry
Food specials
$8 Chicken sliders

$10 Crab cake sliders

$9 Buttermilk calamari

$10 Buffalo wings

$9 Hummus

$10 Potato & Cod Croquettes
Cantina Bambina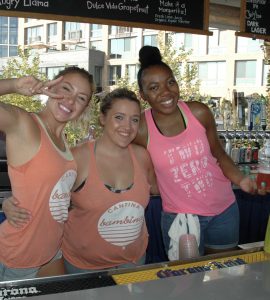 Located above Transit Pier, Cantina Bambina provides the closest views of the Washington Channel and nearby marinas. It also shares the fun, divey feel of the old Cantina Marina including many of the same bartenders! Wait, that came out wrong – Bambina is divey, the bartenders are classy and cool. Anyway, Bambina forgoes traditional happy hours for specials that run all day Monday – Wednesday.
HH Hours
Monday – Wednesday, 4:00pm – 10:00pm
Drink specials
$6 Modello all day Monday
$6 Tecate all day Tuesday
$6 Pacifico all day Wednesday
Del Mar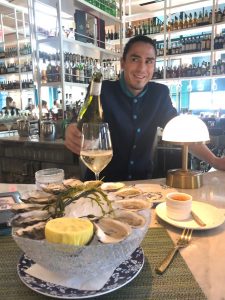 Think you'll never have the budget to get into Del Mar?  Think again. Perhaps the swankiest of The Wharf restaurants, Del Mar has a robust happy hour for both food and drink.  The cuisine is a tribute to coastal Spain so expect selections to include sangria, jamon, and seafood.  
HH Hours
Monday – Thursday, 4:00pm – 5:30pm at the bar
Drink specials
$10 Cocktails including Manhattan, Sangria, Gin Tonic 

$10 Wine by the glass; Sabeo, Verdejo, Rueda Spain, 2016

$10 Wine by the glass; Sabeo Montsant, Catalonia, Spain 2015

$6 Beer, Alhambra 1925 – Spanish Pale Lager
Food specials
Cold tapas
$3 Gildas – 3 skewers of piparra, olive, and anchovy

$5 Marcona Almonds

$5 House Marinated Spanish Olives

$10 Pan con Tomate – Catalan crispbread, tomatoes, garlic, extra virgin olive oil…add jamon serrano for $8
Hot tapas
$16 Croquetas de Jamón y Trufa – ham fritters with aioli 

$18 Andalusian Gambas al Ajillo – shrimp, garlic, arbol chile, parsley 

$18 Pulpo a la Plancha – Galician style octopus, crispy potatoes, smoked pimenton 
Hank's Oyster Bar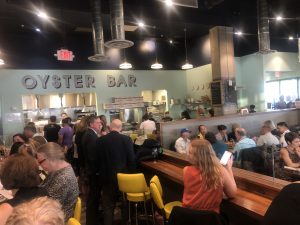 Hank's is a neighborhood bar located near Recreation Pier at 7th Street. It has a vibrant inside bar with TVs and plenty of barstools.  There is also a patio bar with a protected awning and space heaters. When the weather is nice they roll up a garage door partition for direct access to the bar. 
HH Hours:
Everyday, 3:00pm – 7:00pm
Drink specials
$5 Select beer 

$5 Rail drinks 

$5 Select red/white/sparkling wines

$5 Punch or cocktail of the day 
Food specials 
$1.50 Oysters

$5 Trout dip

$5 Onion dip

$5 Lobster Deviled eggs
Kaliwa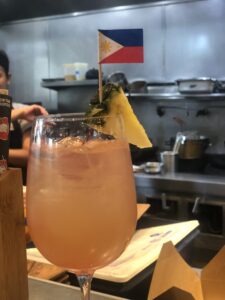 Not all happy hours are created the same and this is certainly true at Kaliwa, an Asian restaurant that features food and drinks from the Philippines, Thailand, and Korea.  The happy hour menu is for those at the bar or cocktail tables and includes a generous selection of food and drink options. You can choose from both $5 food and drink options and $7 food and drink options. Play your cards right, and you've just had dinner. 
HH Hours
Monday – Friday, 4:00pm – 6:30pm
$5 drink specials
Klout Lager Ale

Rotating draft beer
$5 food options
Mussels Escabeche

Tokneneng – battered fried egg with sweet and sour dipping sauce

Garlic fried rice

Green papaya salad
$7  drink options
Siam Citrus Rose  (Ketel One, grapefruit & rose´ vodka) 

House sparkling, white, rose, and red wine
$7 food options
Lumpiang Shanghai – crispy shrimp and pork fried rolls

Chicken Satay – grilled skewers with peanut sauce and toasted peanuts

Grilled ribeye skewers – local beef in a sweet soy marinade

Kaliwa fried chicken wings – spicy Korean sesame sauce

Jjolmyeon – Chilled noodle salad with gochujang 
La Vie
La Vie's ornate Mediterranean decor located high above the promenade at District Square.  La Vie has broad views of the marina and beyond making this chic location a happy hour favorite. 
HH Hours
Monday – Friday, 4:00pm – 7:00pm 
Drink specials
$6 Troegs Dreamweaver hefeweizen

$6 Mahou pale lager

$6 Devil's Backbone IPA

$7 Domaine Bellevue sauvignon 

$7 M. Chapoutier grenache syrah

$7 Cote Mas grenache rose 

$7 Lindeman's sparkling wine

$10 Imperial Ice Tea

$10 Le Paloma

$10 One in a Melon

$10 Dreamsicle 
Food Specials
$8 Lamb meatballs

$8 Grape leaves

$8 Mini lamb gyro

$8 Arancini

$8 Truffle frites

$8 Tzatziki

$8 Half dozen oysters

$7 Oyster shooter
Mi Vida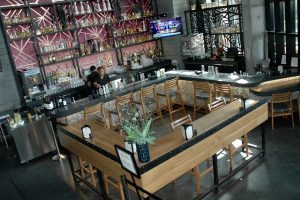 Mi Vida is a high-quality  Mexican restaurant located at District Square near Transit Pier.  The space is ornate and beautiful. There are two bars, one on the ground floor consisting of a traditional bar area and some leaning posts. On the third floor, the bar scene is vibrant with elevated views of the Wharf. 
HH Hours 
Monday – Friday, 3:00pm – 6:00pm
Drink specials
$4 Beers

$6 Cocktails

$6 Wines
Food specials
$2 Oysters

$2 Chicken wings (per wing)

$6 Tacos Dorados

$6 Queso Fundido

$6 Tatanachoes
Taco Tuesday
Officina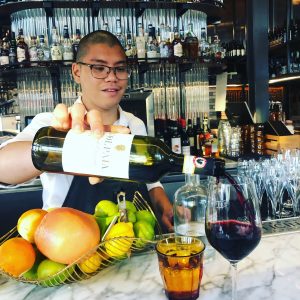 Officina is the consummate Italian experience featuring a mercato, cafe, trattoria, salotto, and terrazza among its three levels. Happy hours are held weeknights in the cafe, which is located on the ground floor adjacent to the mercato.  
HH Hours
Monday – Friday, 4:00pm – 6:00pm
Drink specials
$8 Officina spritz (like an Aperol Spritz but made with sauvignon blanc instead of prosecco)

$7 Italian red and white wines

$7 Lambrusco
Food specials
Complimentary bar snacks with purchase of happy hour drink specials 
Pearl Street Warehouse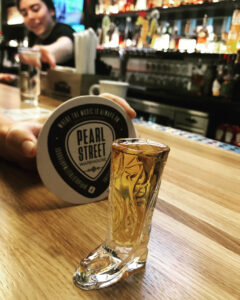 For all the glitz at the Wharf, it's got a honky-tonk called Pearl Street Warehouse, which triples up as a bar, restaurant, and a live music venue. It's owned by some of the same team that owned the historic Cantina Marina so you know it's a fun place.  It only gets better with happy hour. 
HH Hours
Tuesday – Friday, 4:00pm – 7:00pm
Drink specials
$5 Shiner Bock / Shiner Light

$5 George Dickel

$5 Malbec / pinot grigio / cava
Food specials
$5 Burgers

$5 Chicken tacos (2/order)
Rappahannock Oyster Bar
Set adjacent to the Municipal Fish Market and located in a refurbished historic shucking house, Rappahannock as authentic as it gets.  The bar area is horseshoe shaped, which makes for a cozy and fun setting where all patrons are friends.  
HH Hours
Monday – Friday, 3:00pm – 6:00pm
Drink specials
Food specials
Half price oysters ($1.25/oyster)

$1 Raw clams
The Grill
The Grill has brought back the Martini and even has a make your own Martini menu where you can have it as filthy or as dry as you desire. In fact, The Grill offers over 100 gins and vodkas, so there is something for everyone.  This swanky, steak and seafood restaurant has a Miami vibe with indoor and outdoor seating.
HH Hours
Monday – Friday, 4pm – 6pm
Drink specials
$11 The Grill Martini -Fords gin or Grey Goose vodka, miro extra seco vermouth
olive bitters, charred cipollini
$8 Pinky in the Brain – frozen Beefeater pink gin, Malfy con limone gin, Capitoline tiber
strawberry, rosé
$8 Grill Punch – pineapple-infused vodka, Hayman's gin, grilled mango, ginger, mint, bubbles
$10 Conca D'Oro Prosecco
$8 Bertani Pinot Grigio
$8 Mouton Cadet Merlot Blend
$6 Allagash White
$6 Hellbender Redline
$6 Founders Solid Gold
$6 Mustang Sally
Tiki TNT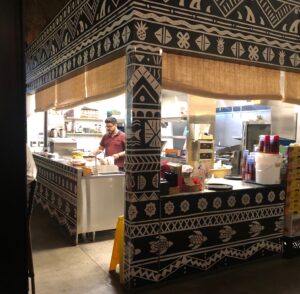 What's better than one happy hour?  Right, two happy hours! That's the deal at Tiki TNT, a rum bar with a Hawaiian flair.  Tiki TNT has several levels and rooms, all with a different feel. It's also home to Potomac Distilling Company, which makes Thrasher's rum.  Good vibes are what you get at Tiki TNT, they only get better with happy hour. 
HH Hours
Monday – Friday, 3:00pm – 6:30 p.m.

Daily,  11:00pm – closing
Drink specials
$4 Beer (Miller Lite, Miller High Life, Pacifico or Narragansett)

$4 Classic House Daiquiri

$5 White, Pink, Red Wine, or Sparkles

$9 Frozen Rum 'in' Coke

$5 Thrasher's Rum + 1 Mixer (Coke, Diet Coke, Ginger Beer, Tonic, Soda Water)

$25 32oz House Daiquiri Pitcher (for groups of 3 or more)
Food specials
​$3 Mini Taco (Pulled Pork or Smoked Chicken

$4 Pulled Pork Slider with Purple Slaw

$5 Pimento Cheese Dip with Ritz Crackers

$6 Tiki Nachos or Plain Tots

$7 Tiki Tots (cheese sauce, mango, pineapple, chiles, cilantro)

$10 Pepperoni or Veggie Flatbread
Union Stage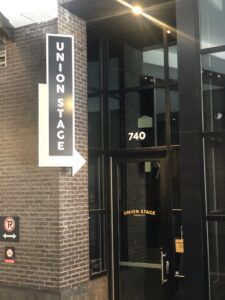 The Tap Room at Union Stage is another cozy spot at the Wharf where if you want to hide-out, you've found the perfect location. It's open every day regardless of whether there is a show that day.  The happy hour special could not be more straight forward or tempting: half pizza and a beer for $10. Enough said. 
HH Hours 
Every day, 5:00pm – 7:00pm
Food and drink special: 
Half pizza and a beer for $10
Wharf DC Happy Hour Photo Gallery