Living at Incanto – DC Wharf
Incanto is an olde world Italian word for charmed, magical or enchanted and this boutique apartment building at the DC Wharf works hard to bring that experience to its residents. With 148 units, it is the smallest of the apartment buildings at The Wharf and has a more traditional, almost European feel. Incanto has a warm, subtle, sophisticated vibe and its own signature scent. Yep, The management team at Bozzuto partners with ScentAir™️ to create distinct aromas for their properties. I know that sounds weird but I actually kinda dig it.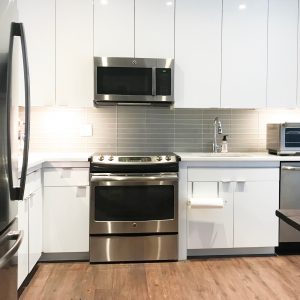 The finishes at Incanto are clean, classic and refined. You can choose the white or espresso (dark brown) kitchen cabinet package. The in-unit washers and dryers are from world renowned German appliance manufacturers Bosch (which is a nice touch, as a lot of apartment buildings are notorious for providing less than awesome appliances). The kitchens are outfitted with GE appliances including glass cooktops.
Most units boast tons of natural light, a rare commodity in city buildings! The windows are large, floor to ceiling warehouse style, but get this…they open! not all the way, but enough to catch those breezes wafting over from the waterfront.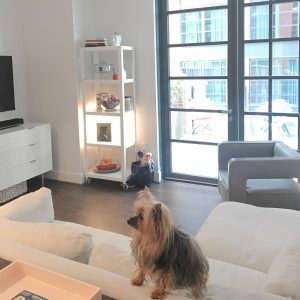 There is a beautiful guest lounge/meeting room with two large screen televisions just as perfect for viewing parties as business meetings. The generous sized shared patio is perfectly instagramable with fountains, plantings, fire pits, grills and giant jenga.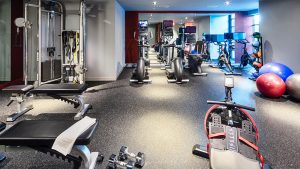 The gym is small but efficient, stocked with state of the art basics, including Peloton™️ bikes and LifeFitness treadmills, and free weights, etc. I personally love that the treadmills are positioned by the windows so that a quick run doesn't mean staring at a blank wall for 30 min. 
Hands down, the best part of Incanto is its unbeatable location right in the heart of the Southwest waterfront where it is perfectly positioned to sprinkle that bit of magic that makes a house a home.