Colada Shop at Wharf Making Progress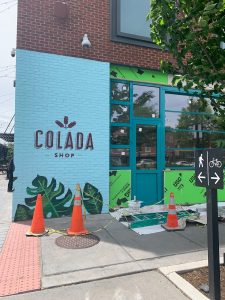 Construction of Colada Shop on Pearl Street at the District Wharf is making significant progress and we are hoping for a grand opening announcement in the near future. The exterior of the Cuban themed restaurant is already attracting attention with its stunning painting of a woman deep in thought among banana plants. The interior is coming along. Visible from the outside are recently built walls, light fixtures, and an ordering counter.  
Colada Shop offers authentic Cuban food, coffee, and cocktails, and is located at 10 Pearl Street, SW next to Lupo Marino and across from Pearl Street Warehouse. It appears there will be entrances on Pearl Street and on Maine Avenue. 
Once Colada Shop opens, and the District's stay at home order is canceled, it will make for a multi-ethnic, food, drink, and music scene in the heart of the Wharf. Also located on or near Pearl Street is Kaliwa, an Asian inspired restaurant, Kirwan's on The Wharf, a Irish restaurant and pub, Union Stage, a live music venue that features craft beer and amazing pizza, Lupo Marino which offers Italian fare, and Pearl Street Warehouse, which is a live music honkytonk with classic American food. 
The Colada Menu offers a full list of breakfast, lunch, and dinner options including breakfast sandwiches in the morning and empanadas and Cuban sandwiches among the items found on the "all-day" menus.  The coffee menu includes Cafe Cubano, Cafe Con Leche, and Cafe Bon Bon, which would go well with Colada's  line-up of deserts including Churros and Tres Leches. 
The Colada Shop is expected to have an island-inspired drinks menu and bring its "Calle Ocho" inspired cocktails to The Wharf including Mojitos, Pina Coladas, and Cascara Cuba Libre. 
Colada Shop Photo Gallery