A Victory for Wharf Life DC at the Annual Parade of Lights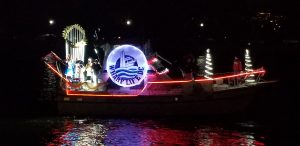 Wharf Life DC pulled off an improbable victory Saturday night at the DC Wharf's annual Parade of Lights by winning the grand prize, Best in Parade, with its "world's largest" World Series trophy replica and a very rowdy champagne drenched crew. 
The "trophy" was carried up the Washington Channel on Sojourner, a 45 foot trawler based at Wharf Gangplank marina and captained by Ramsey Poston. Interest in the trophy was piqued by a Washington Post story last week titled, Hey, is that a 12-foot copy of the Nats' World Series trophy on a boat?
The WharfLife DC crew put on quite a show. As Sojourner approached the judge's stand they got a "Let's Go Nats" chant going and thousands of spectators chanted with them. When the boat was directly in front of the judges, a team of "players" recreated the Nat's champagne celebration in front of the 12 foot tall trophy complete with a shirtless Brian Dozier look-alike, a baby shark, an ObiSean Kenobi, and a cast of others. Six bottles of champagne, confetti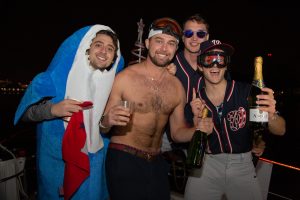 cannons, and red smoke bombs made for quite the scene, including the Baby Shark theme blasting from the boat's speakers. 
As Sojourner pulled away from the judges, Queen's "We Are The Champions" was played and the players continued to celebrate as if they had just won the World Series themselves!  
Sojourner was manned by a crew of 15 that included the Wharf Life DC editorial team, friends and family, including special guests, Washington Nationals TV analyst, FP Santangelo and his girlfriend Andy Mucino.
Overall, this year's parade may have been the best ever. Sixty-five boats participated in the parade, each and everyone was spectacular in its own way and gave tens of thousands of spectators quite a show.  
Congratulations to all the winners that include the following: 
Best in Parade: $1000 and trophy awarded to Ramsey Poston

Community Choice Award: $750 and trophy awarded to Kelly Regal

Spirit of the Waterfront: $500 and trophy awarded to Daniel Ricks

Best Sail Boat: $500 and trophy awarded to Elizabeth Beckman

Best Motor Boat: $500 and trophy awarded to Bob Rose

1

st

Place: $500 and trophy awarded to Walter Weis

2

nd

Place: $400 and trophy awarded to David Huebner   

3

rd

Place: $300 and trophy awarded to Brian Terhaar

What A Wow Award: $250 and trophy awarded to Nils Grier

Founder's Award: $250 and trophy awarded to Steve Preda

Producer's Choice Award: $250 and trophy awarded to Linda Purdy

Best Themed Crew Costumes: $250 and trophy awarded to Aaron Carter

Most Ingenious Idea: $250 and trophy awarded to Todd Rheum

Most likely to Capsize: $100 and trophy awarded to Mikhael Schlossman
Special thanks to everyone who participated on behalf of WharfLifeDC. They include Jean Link, Bob Link, Jenna O'Brien, Aubrey Whittier, Laura Cowles, John Leary, Maureen Leary, FP Santangelo, Andy Mucino, Jeff Poston, Will Poston, Jonathan Mudd, Landon Mckenzie, Will Lincoln, Wes Lincoln, and Dean Mitchell. 
2019 Parade of Lights Photo Gallery