Wharf Announces Cancellation of Popular Boat Parade Because of COVID-19 Restrictions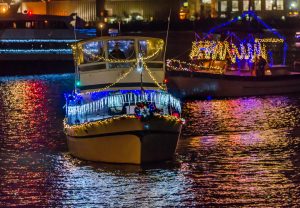 The District Wharf announced the cancellation of its annual District Boat Parade "in the interest of public safety and compliance with District guidelines." The event, held each December, attracts thousands of visitors to the DC Wharf to watch the parade of holiday decorated boats that light up the southwest waterfront. 
The City of Alexandria has since made a similar announcement and has cancelled its boat parade for 2020.
In lieu of the parade, boaters are encouraged to show their holiday spirit by sharing boat decorations with the Wharf on social media and tagging @theWharfdc on Instagram or by contacting Patrick Revord at prevord@wharfdc.com. 
The Wharf also announced that its other holiday programing activities will remain as planned including the lighting of its 45' tree on District Pier on November 27th and the lighting of the Menorah on December 10th.
The cancellation of the parade is the correct decision even though it denies Wharf Life DC the opportunity to defend our 2019 Best in Show Title (remember the 'world's largest World Series trophy?!), but we will be prepared to participate on December 4, 2021! 
Parade of Lights Photo Gallery